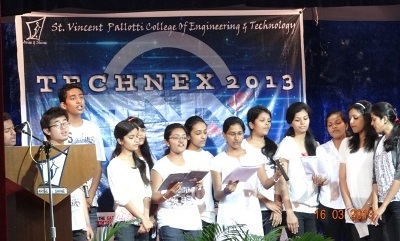 Technex'2013, organized by St. Vincent Pallotti College of Engineering & Technology received an incredible response. Student stepped forward actively come up to become a part of it and win exciting prizes. Considered to be one of the biggest technical fest amongst the colleges in Nagpur, it was scheduled on 16th and 17th of March, 2013.
Technex is the annual technical fest of St.Vincent Pallotti College of Engineering and Technology that has come a long way since its inception in 2008 in becoming one of the largest fest of its kind in Nagpur. It provides a platform to numerous talented students across the country to exhibit their scientific dexterity and spread the spirit of youth by uniting young minds from various colleges under the banner of science and technology. The flagship events included,
Soccorage, a modified event of Robowar served as one of the trademarks of technex. In this event the participants prepared a manually controlled robot, and competed. Students thoroughly enjoyed the venture.
Robolevantar, a roborace, was the main attraction of Technex. A manually controlled robot, prepared by the participants, had to pick a block placed on the racetrack and carry it till the deposition site within a limited time period that made this event even more interesting.
Cryptjam, an event in which participants had to crack the given code. Each group was provided with a password protected file, which was revealed as the competition started. The competition had multiple levels, for every level passwords were cracked as per the clues. Provided hints helped the teams accomplished the task.
Resolve, a new event that intended to encourage the interaction of students with the industrial problems and provide them with solution. A real time industrial problem was given to the students a month before, on the website. Based on that, participants gave the solutions.
And finally Technika, that was an Android Workshop. Android is the fastest growing mobile operation system. A workshop was thereby arranged, on android software, an open source software on which apps can be made, which was followed by a small competition. Certificates from IIT Kharagpur were also provided to the participants.
Cryptjam winners from RCOEM (Ramdeobaba College Of Engg. and Management) said, 'Cryptjam was very well organized and all the co-coordinators were very supportive and the difficulty level was very good.'
Whereas Robolevantar Participant was of the view, 'this event was a fresh idea and it involved a lot of thinking upon designing, a totally different event altogether.'
Soccorage Runner ups from RCOEM said that the event involved not only a good design but also controlling was also required, a unique event of its type.
On the other hand, Resolve Winner from Bapurao Deshmukh College of Engineering, Sewagram shared the views saying, 'It was a unique event of its type, where we had to deal with industrial problems, involved a lot of thinking and smart work. Altogether, a very well event was organized by the College'.
The event concluded on a successful note.