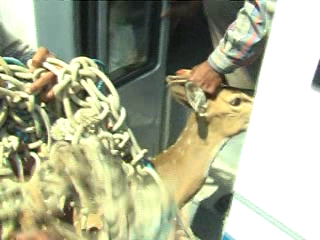 Nagpur News: A deer from the wilds strayed into a residential colony at Dighori in Nagpur on Monday. The unexpected arrival of the wild animal remained the buzz in the vicinity for rest of the day. The excited lot however scared the deer who ran to seek shelter in a nearby house. Some of the concerned citizens informed the forest department which struggled for full one hour to net the apparently frightened deer.
The deer was found hiding in the house of P R Gajbhiye. The forest employees trapped the animal in the net and took it towards Seminary Hills.
Some of the onlookers informed that they had seen some stray dogs chasing this deer in the morning. The deer bore some injuries resulting from the dog bite.
The animal then ran towards the house of Gajbhiye to ward off the danger.