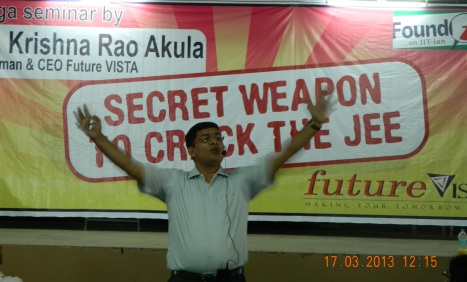 Leading engineering test prep institute Future VISTA unveiled a stunning new innovation for students preparing for the JEE exam in Nagpur. Speaking to a jam packed audience at BRA Mundle Hall, Mr. Krishna RaoAkula, CEO of Future VISTA introduced the JEE STUDY MATE – a unique tablet with entire 2 years Board + JEE syllabus inbuilt into it.
"This unique tablet is the solution to a lot of learning gaps that students experience during their preparations. More than 750 hours of digital sessions and a host of value added services will give our students an edge over the rest as they prepare for the JEE", said Mr. Akula.
Students preparing for engineering entrance exams face numerous hurdles in their learning due to common problems like missed lectures, incomplete conceptual clarity, untimely subject related doubts, recollection of fundamentals during the 2 year training programs. The JEE STUDY MATE promises to plug all these learning gaps though a host of unique features.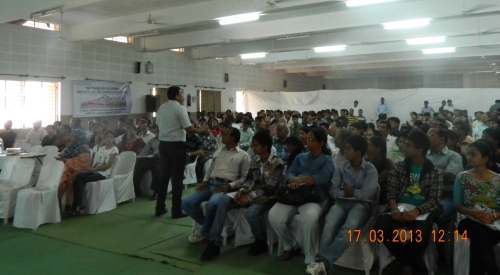 The JEE STUDY MATE (7 inch) is being offered free of cost to every student who enrolls for Future VISTA training programs for JEE-MAIN & JEE-ADVANCED.
Future VISTA is also conducting a 3 day Foundation Program for all Xth appeared CBSE students from the 21st of March. This program will help students identify the right career path and also equip them to take crucial decision regarding the future course of actions. A unique API psychometric test is administered on each student to identify his/her IQ, internal motivation, personality traits and an ideal career path suited to the students personality is chalked out.
There is a tremendous rush for this foundation program from students of reputed schools like Centre Point, Sandipani, BVM, St. Xaviers, Montfort, KVs etc.
To enroll for this program, please contact Future VISTA at any of their offices: Bajaj Nagar – 6643999/990, Sadar – 6455292, Nandanvan – 6457780/81 or visit www.futurevista.org