Tearful eyes bid bye to NT Crime Reporter Kamble's mother, daughter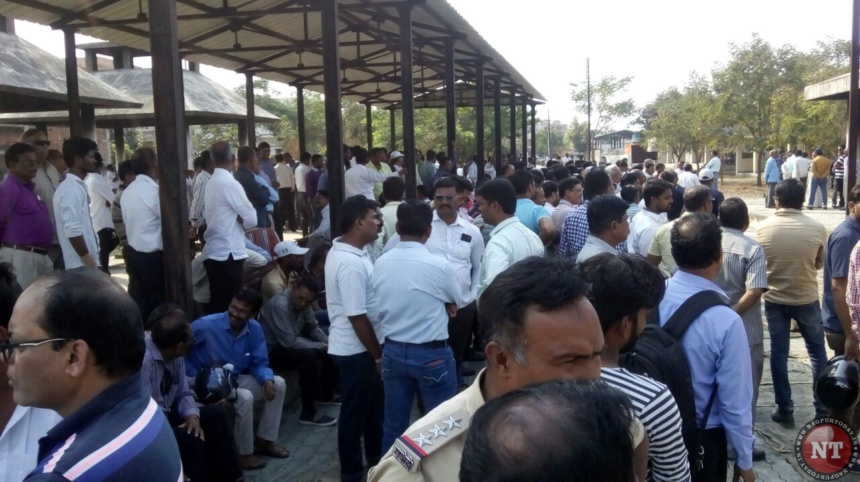 Nagpur: A pall of gloom prevailed over Pawanputra Colony in Dighori as the people in the area were under deep shock and despair over the brutal murder of innocent one and a half year old Rashi Ravikant Kamble and her grandmother Usha Sevakrao Kamble. As the bodies arrived at Nagpur Today crime reporter Ravikant Kamble's residence on Monday afternoon, his wife – the mother of Rashi, wept uncontrollably while the tears rolled out of the eyes of everyone present around. The wave of sadness gripped the entire Kamble family and their neighbourhood as they saw the faces of Kamble's mother and daughter for one last time.
Rashi's face still had that innocent smile on her face as she was being taken for the last rites – the end which was not expected to be but even her destiny could not save her from cruel hands of criminals, who did not think twice before slitting her throat along with that of her grandmother.
Heavy police bandobast was put right from Kamble's residence to the Dighori ghat where the funeral was performed.
Hordes of citizens along with people from media fraternity and members of Nagpur Union of Working Journalists were present at the ghat.
DCP Nilesh Bharne who supervised entire police arrangment remained present till the end of the ritual.
Kamble's mother and daughter were reportedly murdered over the issue of money which his mother had given to one Ganesh Shahu who runs a kirana shop in Pawanputra Colony. The duo were allegedly murdered by Ganesh Shahu and few accomplices whose names were yet to be ascertained.
It was DCP Bharne who first raised suspicion over Shahu. Bharne was present at 2.30 am during the intervening night of Saturday and Sunday when the cops were trying to trace missing Usha and her grand daughter Rashi.
Its was Bharne's efforts which led the case to resolution within hours. He reportedly doubted on Shahu right from his first meeting with him. He appeared suspicious from his behavior and the condition of clothes he was wearing at that time. Bharne had reportedly deployed two policeman to keep an eye on him. Eventually the case was resolved when the sniffer dog first started barking at the Shahu's vehicle which was later found stained with washed away blood spots. When Shahu's house was checked the case turned clear when more blood stains were spotted at various places into the rooms.