"Violence can never lead any movement to success rather it will be a self-goal. The traders should intensify this peaceful protest into full-fledged Civil Disobedience."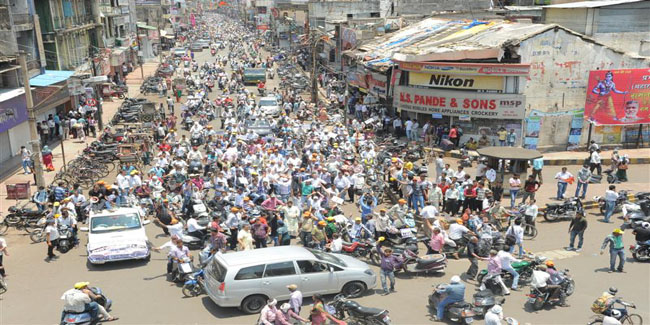 Nagpur News:
Taking a cue from Mahatma Gandhi's non-violence Independence struggle in various forms most important being Quit India Movement against the 150-year old British regime which ultimately resulted freedom for India on August 15, 1947, the Aam Aadmi Party headed by Magsaysay Award winner Arvind Kejriwal at national level, has warned the traders' community to protest Local Body Tax (LBT) rather peacefully than indulging in violent actions. Instead of breaking the laws they should tear apart the "draconian" LBT, warned Nagpur branch's leaders Rajesh Pugalia  and Girish Nandgaonkar.
"Violence can never lead any movement or enterprise to success, rather it will be a self-goal for this movement". Aam Aadmi Party, while supporting the peaceful movement against LBT, has warned traders and their associations about the political conspiracy against them hatched by the Congress, BJP, NCP, Shiv Sena and other political parties. Instead of succumbing to overt and covert inducements to indulge in violence by politicians, the traders should intensify this peaceful movement into full-fledged Civil Disobedience. We should be openly breaking this black LBT, and not the glasses of fellow traders' establishments. The time has come for traders to respond to Governments' deemed LBT registration (of traders already registered for VAT) by unitedly cancelling their VAT registrations en-masse," asserted the AAP leaders.
"The Central Government first struck the domestic markets with a deadly blow by clearing the ground for FDI in retail in the country, and now, on instructions of his party high command, the Congress Chief Minister Prithviraj Chavan continues to callously ignore the demands of the traders to withdraw the "black" LBT.  Other Congress leaders have also responded with the empty assurance of personal support, but plead helplessness before the party High Command's wishes. On the other hand, salivating at the sight of the well-organized traders' movement and seeking to benefit from it politically, BJP MLAs and petty leaders have suddenly appeared inside Traders' Organizations and are inciting them to acts of violence, claimed Rajesh Pugalia  and Girish Nandgaonkar.
BJP MLA Krishna Khopde attempting a personal show of strength, took hundreds of traders to Nitin Gadkari's house, only to return disappointed after waiting for him for an hour in the afternoon sun. The  AAP leaders against this backdrop have appealed to all traders not to fall for these kinds of malafide inducements as they will not only trouble the common man, but will be disastrous for the anti-LBT movement as well, stated the AAP leaders.
Aam Aadmi Party Nagpur stated that while on one hand the Congress keeps hatching new schemes to loot the nation, they pay off their collaborator the BJP to discredit any opposition to such schemes. This undemocratic alliance between treasury and opposition is perhaps the greatest danger faced today by the world's largest democracy. AAP Nagpur appealed the  traders and the common people to stay on guard against this. Aam Aadmi Party was founded as a political alternative to transform this corrupt and rotten system by bringing forth true Swaraj through decentralization of all governance.
AAP Nagpur demands that if the BJP truly supports traders, they should prove this by calling a special session of the NMC House, passing a resolution demanding withdrawal of LBT and forwarding it to the state government forthwith.