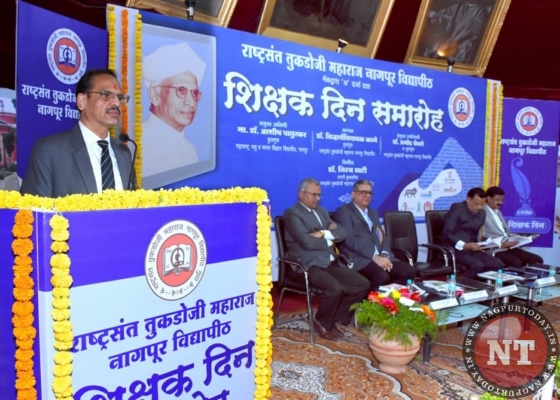 Nagpur: To mark a Teachers Day celebration and to give the awards to the best teachers Rashtrasant Tukadoji Maharaj Nagpur University organized 'Shishak Din Samaroh' on September 5 at Nagpur University convocation Hall. Maharashtra Animal & Fishery Sciences University (MAFSU) Vice Chancellor Dr. Ashish Motiram Paturkar along with Nagpur University VC DR. S.P Kane, Pro-VC Dr.Pramod Yeole, along with Dr. Neeraj Khaty and Dr. Raju Hivse were present on the during the program.
VC SP Kane said that, a teacher's job is the noblest profession and if trade comes in, there is no worth of such a profession. If a teacher aims to earn more money then it is of no use as the origin of being a teacher is lost.We should work for the progress of our students and prepare them for the future.
MAFSU VC Dr. Ashish Motiram Paturkar shared his thoughts on the occasion and urged the teachers to work for preparing students to tackle with problems that come in various spheres of life, as we need youths who can provide solutions and can tackle with problems. We as teachers should work on teaching all the aspects of life and provide the knowledge to the students. Students should work on the skill developments as well, as merely completing a degree will not help anyone. Skills are the basic requirement in every aspect, he added.
On this day Prakash Itankar NU's postgraduate department of pharmaceutical sciences, Chandrashekar Sakhale Priyadarshini College of Engineering received 'Best teacher' award while the best research award was conferred upon associate professor at Kamala Nehru College Vasudeo Gurnule. Similarly the best writer award was given to CP & Berar College's associate professor Rajendra Naikwade.
-Abhishek Tiwari