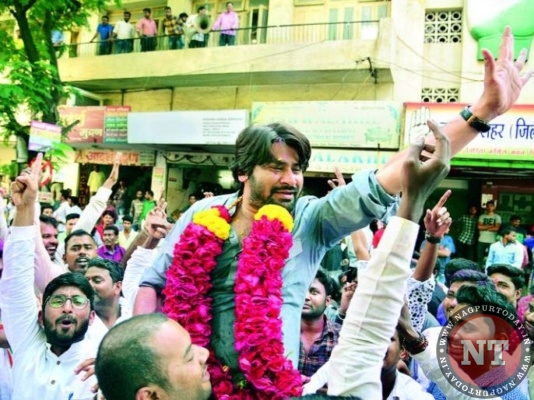 NAGPUR: Tausif Khan and Irshad Sheikh have been elected as president and vice-president respectively of Youth Congress' Nagpur unit. The results of the organization elections were announced on Friday as party members were eagerly awaiting for it after the controversial elections had become a point of discussion across the State.
The organization elections to Youth Congress in Nagpur Lok Sabha constituency had started on September 9. Polling was done for election of State President, State Secretary, District President, District Secretary, and General Secretary. 5,023 voters of the total of 12,500 voters cast votes in the elections.
Meanwhile, allegations of bogus voting at Ahbab Communicty Centre for the election of president of West Nagpur State Assembly constituency were made and huge uproar was created. Youth Congress workers had demanded action against those creating chaos and therefore the counting was postponed.
Tausif Khan and Dhiraj Pande were among the 10 candidates for Nagpur president's post. While Tausif Khan 1,491 votes, Dhiraj Pande managed to get 1,099 votes. Tausif is the son of Congress City executive member Bashir Bhai. Whereas Dhiraj is the son of Krishna Kumar Pande, who is supporter of AICC's SC Cell president and former minister Nitin Raut. It was learnt that Dhiraj Pande and Irshad Sheikh will be appointed as vice-presidents.
Naved Sheikh polled maximum 542 votes in the City general secretary election. Ketan Thakre and Sheikh Azhar also won in the elections. Akash Gujar was elected as vice-president on SC reserved seat while Kavita Yadav was elected on seat reserved for woman.
Election of Assembly-wise presidents
Elections were held for City committee as well as Assembly-wise committees. Swapnil Dhoke with 518 votes was elected president of YC Central Nagpur. Bobby Dhote (605 votes) from South Nagpur, Anmol Lonare (401) from North Nagpur, Akshay Ghatole (213) from East Nagpur, Akhilesh Rajan (249) from West Nagpur and Mangesh Badhel from South-West Nagpur were elected.
Five Nagpurians on State Committee
Five candidates from Nagpur won in the Youth Congress State Committee elections. Kunal Raut was elected state vice-president, while Bhushan Maraskohle and Neha Nikose were elected state general secretaries. Rohit Khairwar and Ajit Singh were elected state secretaries.
Setback for Nitin Raut in North Nagpur
Many senior party leaders suffered setback in YC elections. AICC SC Cell president and former minister Nitin Raut's son Kunal Raut had to settle for state vice-president's post. While Raut camp's candidate lost in the election of president of North Nagpur. Here Anmol Lonare of Vikas Thakre camp won the election. Vikas Thakre's son Ketan became City general secretary.