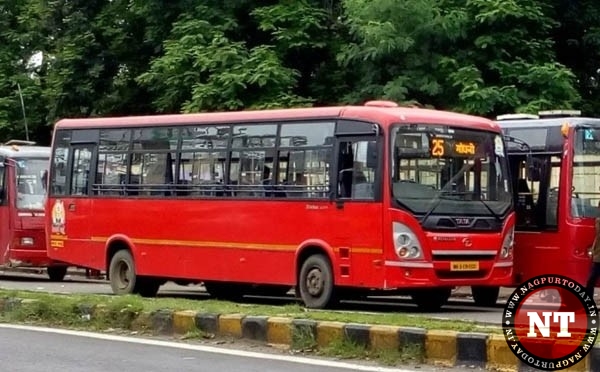 Nagpur: Even as the Ganesh festival is adding up to all the vibrance and fervour throughout the city, the commuters are facing hard times coping up with less number of city buses plying on the roads. The reason – less number of conductors are available as most of them are not reporting to duty in view to festive engagements due to Mahalaxmi and Ganesh festival.
On Friday too, many passengers of Aapli Bus were left stranded on over a dozen routes after many buses did not ply on time due to non-availability of conductors. A senior official from Delhi Integrated Multimodal Transit System (DIMTS), agency monitoring the city bus service gave information in this regard.
The two agencies, Unity Infrastructure and Security and Intelligence Services (SIS), that were appointed to streamline the city bus service, together have 1,500 conductors for running 320 buses. However, the NMC has suffered a loss of over Rs 50 crore since April 2018 as many buses could not be operated for want of conductors.
Since September 9, three red bus operators of Nagpur Municipal Corporation's Aapli Bus service have cancelled many trips due to lack of conductors.
The affected routes include Sitabuldi to Besa, Godhni, Hingna, Bahadur Phata, Vaishali Nagar, Pardi, Defence (Wadi), New Narsala and others. "On September 11, the operators could not ply around 24 buses. On Friday too they had to cancel trips of 12 buses on these routes," said a senior official from NMC's transport department. DIMTS has issued show cause notices to both the ticketing agencies for causing financial loss due to non-availability of conductors.
DIMTS official, however, said lack of conductors has not affected the service badly as the number of passengers was less due to festivals like Pola and Ganesh Chaturthi. One of the operators said they have enough drivers and buses to run the buses. "However, we are losing trips due to unavailability of conductors, while NMC too is suffering revenue loss," the operator said.
Passengers were forced to travel in overcrowded Red buses. Some criticized the NMC for the deteriorating service. Prakash Bhalerao, a regular traveller from Wadi, said, "The bus service has gone from bad to worse. I was waiting for almost an hour but failed to get bus for Wadi Defence to Sitabuldi route."