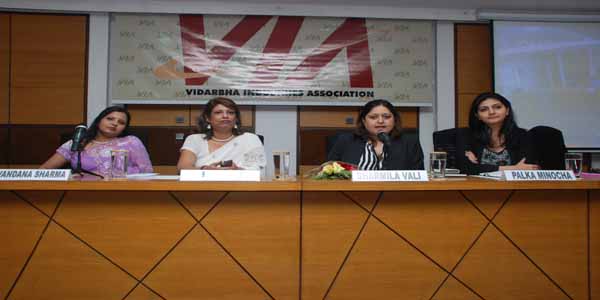 Nagpur News: VIA LEW organized a talk on "Team Work Team Spirit" by Sharmila Vali & Palka Minocha, Director – Rev Ayur Cosmetics at VIA Hall, 1st Floor, Udyog Bhawan, Civil Lines, Nagpur on Wednesday, 20th February 2013 at 3:00 pm.
The speaker Sharmila Vali initiated the talk and said Team-building is a way to provide high-impact learning, increase team skills and communications, and improve morale and productivity. Employees benefit through experiencing a sense of accomplishment in working as a group to complete a challenging task and learning ways to improve communication skills. Team building also allows an employee to improve problem-solving skills. Team building is very useful for breaking down barriers between individuals through group participation in activities. People who are not used to working together get a chance to participate and work as a team. By working through a task, the multiplicity of skills within the team is highlighted and the group learns new ways of working together. Team-building activities that highlight communication allow participants to experience for themselves the importance of good communication and develop new ways of accomplishing this.
Speaker Palka Minocha said some people are best at focusing on the team objectives and delegating work, while others are most effective at checking finished work for errors. Team building allows each member of the team to develop and focus on what they are best at, and allow the team members to find their position within the team so that everyone can best contribute as an individual while still performing together. In a busy office environment, it can be difficult for employees to find time to develop new skills. Managers often do not have time to discover what additional skills. Team-building activities can allow each member of the team a chance to take charge and develop leadership skills, as well as skills in other areas of the business.
Lastly the speakers said Team building and team spirit provides a chance to build relationship for the team to participate together in an experience where everyone starts with an equal level of knowledge about the given task. Team members must be flexible enough to adjust in working environments where goals are achieved through teamwork and social interdependence rather than individualised, competitive goals.
At the Outset, Introduction of the speakers, Sharmila Vali & Palka Minocha, Director – Rev Ayur Cosmetics was done by Vandana Sharma, Convener, LEW. Vote of thanks was given by Rita Lanjewar and floral welcome of speaker and the programme was conducted by Anita Rao, Chairperson, LEW.
Different Questions were asked by the Participants and speakers answered them through their personal and practical experiences.
 Large number of general public and member of lady entrepreneurs' attended this programme.