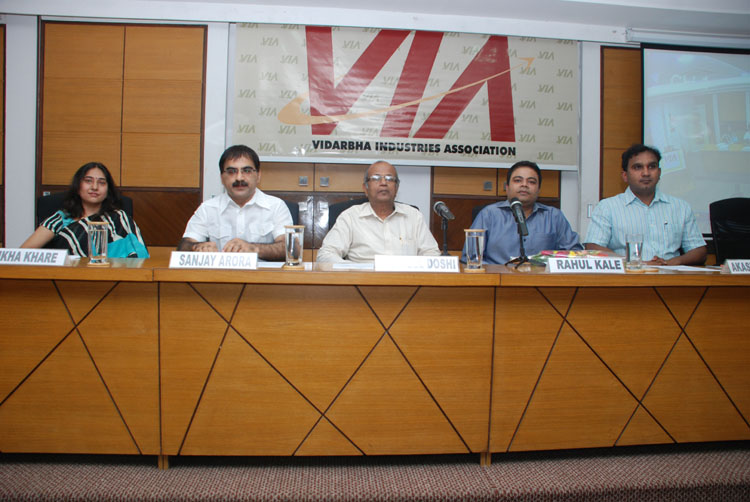 Nagpur News : VIA marketing Forum organized a talk on "Succeeding in International Markets" by Mr. Rahul Kale, Director, Sadatan Ayurveda Pvt. Ltd. at VIA hall this evening.
Rahul was speaking at a programme organized by the VIA Marketing Forum.
The speaker in his talk spell out his views on succeeding in international markets. Targeting international markets can offer businesses profitable opportunities. Crowded domestic market can be an incentive to trade internationally. So whether your're exporting to new markets or working with new suppliers, it is worth thinking about the practical steps you need to take care like Know your markets, Make the most of your products, Get your pricing right, Look out for additional costs. He said it is a challenge to reach more main stream customers. You need to understand market demand which includes customer needs, market trends, customer sensibility & cultural & legal requirements.
He added that investment in R&D and Validation & certificate is very important which builds customer confidence, and help in reaching new markets. Similarly, packaging & presentation plays important role in reaching new clients in international markets. For eg: Thailand has achieved larger exports than India because of packaging and presentation. In addition, Packaging and presentation reflects Product design, first impression, product personality, company image, customer perception & multi-sensory appeal.
The speaker further acknowledge that company should keep transparency in long term perspective on Business Development and company can access international markets through online portals, online advertising, media, Export promotional council, Trade Promotion Organizations : CBI etc Directory Listings, Agents/ Consultants, Buying Agents and lastly through Trade Fairs.
Earlier floral welcome of the speaker was done by Prafull Doshi, President-VIA, Shikha Khare, Convener- VIA Marketing Forum introduced the speaker, opening remarks, summing up and vote of thanks was given by Sanjay Arora, Chairman- VIA marketing Forum, Hetal Gaglani, Co-Convener – VIA Marketing Forum conducted the proceedings.