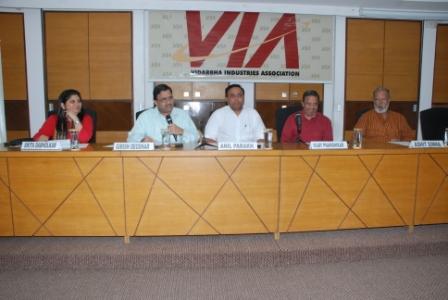 Nagpur Business News 20th October 2012: VIA HRD Forum organised a talk "On Leadership" by Vijay Phanshikar, Editor "The Hitavada" at VIA Hall at 6:15 pm on 18th October 2012. In his enlightening speech on Leadership, the speaker focused on the most important aspect i.e. accommodation. Many successful managers finds it very difficult to accommodate their subordinates. We always believe that as a Leader, we should only throw orders, shout at our men and command them. But do we really think about our men?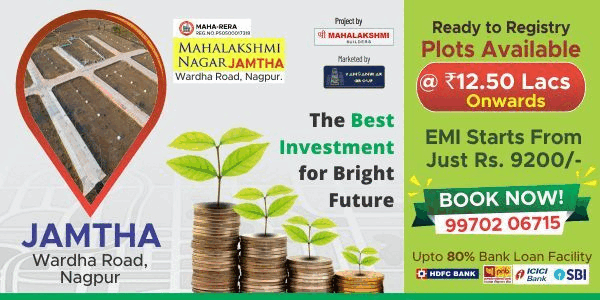 The speaker said a leader bereft of understanding is no leader. Accommodation is the touchstone of leadership. A leader who falters here will never be accepted by his subordinates. MR. Phanshikar gave many relevant examples of eminent personalities like Mahatma Gandhi, Abraham Lincon, Dr. Rajendra Prasad who were great leaders but the same time they had the quality to accommodate. Leadership is totally different from Commandership. But Managers fails to understand that difference and get inclined towards Commandership. When managers don't accommodate, they fail in their professional life. There are examples in history that a country has lost the war just because the Leadership was not ready to accommodate.
As a manager we should give a environment to our new entrants to flourish in the organization. The fresher should get proper mentors who can guide them throughout their tenure. A manager should understand that the employees come with the baggage of all sort of personal problems, family issues and worries. They should be accommodated in the organization. Phanshikar added that maximum leaders feel that they are not well equipped to be managers. There is huge opportunity to bridge this gap. Managers should willingly think over the same and inculcate all necessary qualities to be a good Manager.
In his speech he quoted all recorded examples from history. The entire talk was full of many enlightening examples from army, politics and corporate. Further, in a spell – binding talk full of anecdotes lasting for about an hour, the speaker took the audience on a trip down memory lane beginning in the early 50s. Then he gave classic example of Dr. Rajendra Prasad. "One day Babuji, as Dr. Rajendra Prasad was fondly called, was on a stroll in the corridors of his place of residence. His eyes fell on one of the servants who was fast asleep on a bench. Realizing that the president had noticed the errant servant, Dr. Prasad's assistant, who was accompanying him, assured to take the servant to task. Dr. Prasad instructed him not to do so. When asked, Why? Dr Prasad, who vouched for the sincerity of the servant, replied: when I can sleep in Rashtrpati Bhavan, why can't the poor servant?This is Accommodative Leadership."
The speaker also gave very good example of Abraham Lincoln. Where one of his closest challengers, Mr. Bates, becomes a part of Lincoln's cabinet. In another example: President Kennedy facing the test of his life. Russians have strategically placed lethal warheads targets: New York, Washington, Chicago, San Francisco and California. Playing the role of the Pied Piper to the hilt, Kennedy douses the potential inferno with his majestic diplomacy. When asked by the Editor, President Kennedy pulls the rabbit out of his Hat: I gave the Russians an escape route. Thus, the speaker brought down the curtain on the final chapter of Leadership.
The programme was attended by large number of public which includes students, businessman, Industrialists and members of VIA.
Earlier floral welcome & opening remarks of the speaker Vijay Phanshikar was done by Anil Parakh, Vice President, VIA Introduction of the speaker was done by Dr. Smita Dabholkar. Convener- HRD Forum, Summing up and vote of thanks was done by Ashit Sinha, Advisor- HRD Forum. Programme was conducted by Girish Deodhar, Chairman, VIA –HRD Forum.