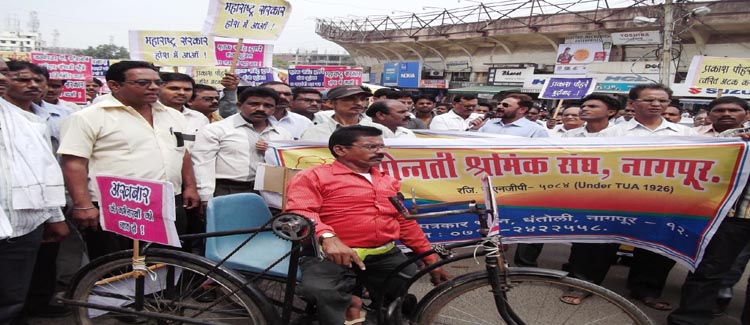 Nagpur News: Hundreds of Journalists, Non-Journalists Newspaper Employees and Newspaper Hawkers took out a Protest March to condemn gunning down of Rajendra Dupare, an employee of Marathi daily 'Deshonnati' by none other than Editor-in-Chief of the same newspaper Prakash Pohare and his henchmen at Gondkhairi Printing Press.
The Protest March  started  from Yashwant Stadium at 11.30 am  and march will be culminated into a dharna agitation at RBI Square to press for the demands of financial assistance of Rs 15 lakh to the family of firing victim Rajendra Dupare by the Maharashtra Government, arrest of all the culprits involved in the crime, adding Section 120 (b) to the original offence of rioting and murder registered against Prakash Pohare and others and immediate suspension of PSO (Kalmeshwar) Sambhaji Mhetre for dereliction of duty.
After the dharna at 1.30 pm on October 20, 2012, a delegation will submit a memorandum of demands to District Collector.
Chairman of the Coordination Committee Adv. S D Thakur, President of Nagpur Union of Working Journalists (NUWJ)Shirish Borkar, General Secretary B S Tripathi, President of Tilak Patrakar Bhavan Trust Pradip Kumar Maitra, former NUWJ President Baban Walke and journalists from other newspaers, non-journalists, other newspaper employees and newspaper hawkers participating  in the agitation in large number.
More News awaited..