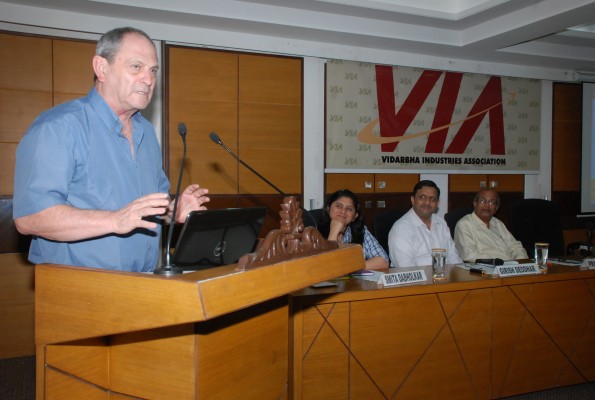 Nagpur News:
October 5th, 2013:- Prof Joseph Yassour from Israel and author of "A Guide to Fallacies in Decision Making" delivered a talk on "Emotions & Rationality in Decision Making" at VIA Hall. The programme was organized by VIA – HRD Forum. Prof Joseph Yassour was on a two week long visit to IMT, Nagpur to deliver a series of lectures on "Decision Making".
Prof Joseph Yassour said if a person knows exactly what he or she wants, with a greater variety, then there is a better chance to find it and to take the decision. Similarly, if comparison is simple and two-dimensional (size and price), greater variety increases sales. Otherwise, if comparison is complicated and multi-dimensional (Brand, Size, Price, Service, Warranty, HD), variety increases frustration and decreases sales. Professor said, wider selection provides a higher chance of finding a desirable item, but too much variety makes choice more difficult and too much choice causes fear of regret, which in turn causes refrain from decision.
Professor Joseph Yassour added that adding an option which is clearly inferior to an existing option would make that option more attractive to a customer. You can manipulate customer on their decision making. Emotion often plays a much more central role in decision making. An emotion also plays either a positive or negative role in making decisions. In spite of education and rationality, people have a high tendency to make decisions in an intuitive and emotional way and then, to justify them using logic. Humans are naturally emotional creatures. Yet without the guidance and foresight that arises with using logic and reason, decision making influenced by emotions is often rash and destructive. Using logic and reason allows one to carefully calculate the payoff of each decision, as well as the potential risks involved. This can be applied to various situations in life, whether one is using logic in a game of chess or a financial decision in a business. However, countless instances in history and literature have shown us the effect one's emotions may have on the ability to make logical decisions.
Summing up his talk, Professor Joseph said a small loss may cause a non-proportional hard pain feeling. It is wise to make good decisions and plan ahead but we should not get discouraged if it does not work out. Life is full of surprises, and we have to be ready for those surprises. The person who always makes wise decisions and plans everything perfectly may not necessarily have a perfect life. If you have made any decision in your life then do not regret any time that the decision made by you was wrong. Professor Joseph Yassour cited numerous examples to prove his point which was highly appreciated by the participants.
The programme was followed by question and answer session and the participants express that it was a real edutainment i.e combined with Education and Entertainment.
The programme was largely attended by students, Industrialists, Young Entrepreneurs' and members of VIA.
At the outset, eminent Speaker and Author Professor Joseph Yassour from Israel was welcomed by Prafull Doshi, President-VIA. Opening remarks was given by Girish Deodhar, Chairman, HRD Forum. Smita Dabholkar, faculty IMT Nagpur and Convener HRD Forum introduced the speaker. Summing up and vote of thanks was given by Ashit Sinha, Advisor- VIA HRD Forum. Prafull Doshi, President VIA also presented memento to the speaker. The programme was conducted by Girish Deodhar, Chairman-HRD Forum.