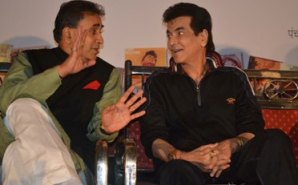 Jeetendra was born as 'Ravi Kapoor' on 7th April 1942, in Amritsar, Punjab. He took birth into a business family that dealt in imitation jewelry. He was a science student who loved to roam around the back roads of Girgaum (in South Mumbai), along with his pals. He also used to visit film studios occasionally, mainly for the purpose of supplying imitation jewelry. It was on one of these visits that he was discovered by filmmaker V Shantaram, who gave him the chance to play Sandhya's double in Navrang (1959) and Sehra (1963).  Jeetendra's real name was "Ravi Kapoor" which was changed by V.Shantaram for the movie "Geet Gaya Patharon ne"
Jeetendra got the first major break of his life with Geet Gaya Pattharon Ne, the 1964 film of V Shantaram. However, it was the film 'Farz' (1967) that served as his stepping stone to success. The 'cuckoo' song in the film, in which he pranced around with Aruna Irani, became the biggest hit of its time. Along with that, the tee shirt, which he had picked from a retail shop, and white shoes, from his own collection, that he wore for the song became his trademark. As Farz became a golden jubilee success, the industry found a new hero, in the form of 'Jeetendra'.
Farz was followed by films like 'Caravan' and 'Humjoli', in which Jeetendra had more dance numbers. His vigorous dancing in the films won him the epithet, 'Jumping Jack of Bollywood'. It was around this time that Jeetendra moved from his chawl and shifted into a palatial house in Colaba, in South Mumbai. His mass appeal and naughty on-screen persona was what won the heart of the audience. In the early 1970s, impressed with Rajesh Khanna's 'Anand', Jeetendra yearned to do roles that left a mark.
It was around this time that his movies 'Parichay' (1972) and Khushboo (1975) were released. Though his sensitivity in these films was acclaimed, Jeetendra realized that it was hard core commercial films that formed his forte. He came back with movies like 'Nagin' (1976), 'Dharam Veer' (1977) and 'Badalte Rishtey' and 'Swarg Narak' (1978). The early 1980s saw him starring in 'Apnapan', 'Judaai', 'Asha', 'Pyaasa Sawan', 'Maang Bharo Sajna' and 'Ek Hi Bhool'. He believed that it were the middle class values of his characters that appealed to the audience.
As the trend of action movies caught on, Jeetendra was seen doing movies like 'Dil Aur Deewar', 'Jyoti Bane Jwala' and 'Meri Awaaz Suno'. In 1982 came his home production 'Deedar-e-Yaar', which co-starred Tina Munim and Rishi Kapoor. The film, which was of one of his dream projects, bombed at the box office and also disturbed his upward trajectory. However, failure could not keep him down for long. He came back with successful South Indian films like 'Justice Chowdhary', 'Himmatwala', 'Mawaali' and 'Tohfa'.
Raveekant Nagaich-directed 'Farz' and L V Prasad's 'Jeene Ki Raah' were the other films that marked the highpoints of his career. As the 1980s drew to an end, Jeetendra found it difficult to cope up in the rat race. His films 'Santaan' (1993) and 'Udhaar Ka Zindagi' (1995) failed at the box-office. Recognizing the change in tide, he turned into a character actor and was seen in films like 'Dil Aashna Hai', 'Zamana Deewana' and 'Dushman Duniya Ka'. Last, he was seen in 'Kucch To Hai' (2003) and did a special appearance for 'Om Shanti Om' (2007).
Personal Life
Shobha was only 14 when she met Jeetendra (that time Ravi Kapoor). By the time she turned 16, he had been rechristened as 'Jeetendra' and both of them were going steady. After much problem and obstacles, the couple got married on 31st October 1974, at Janki Kutir, in the presence of their immediate family and friends. Shobha first gave birth to a daughter, Ekta, and subsequently to a son, Tusshar. Today, Ektaa Kapoor runs the successful production house 'Balaji Telefilms' and Tusshar is a budding actor.
In his career Jeetu ji got a lot of awards & recognition like
1998 – Guest of Honor Award at the 18th Ujala Cinema Express Awards
2000 – Lifetime Achievement Award in film personalities
2002 – Filmfare Lifetime Achievement Award
2002 – Lifetime Achievement Award at the Zee Gold Bollywood Movie Awards in New York
2004 – "Legend of Indian Cinema" Award at Atlantic City (United States)
2007 – Dadasaheb Phalke Academy Award
2008 – Sansui Television Lifetime Achievement Award
The actor recently came to Nagpur to inaugurate a film festival and there he looked fit & young.
Nagpur today wishes Jeetu ji a very Happy Birthday!!!!
Yash Raj Trivedi