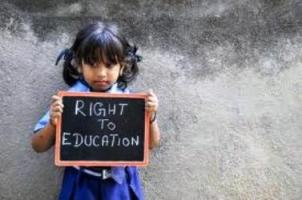 Nagpur Today:
In a surprising and shocking development, 3183 seats in various schools were found vacant under the much touted Right To Education (RTE). Only 2605 students enrolled in the 542 English medium schools in Nagpur out of 5788 seats reserved for Nagpur under RTE. It may be mentioned that 25 per cent seats are reserved under RTE for poor and other backward class students in Nagpur. The first date for admissions to primary students has already expired.
TERRIBLE CONFUSION: According to information, only seven complaints of parents were received by the Primary Education Department. The Department has not initiated any action against the schools which  have refused admissions under RTE. On one hand the Department says the admission process is a continuous exercise on the other hand the schools refuse admissions on the ground that admission quota has been completed. The admissions under RTE started in aided and non-aided schools from January 11 and the last date was February 28. The schools were not given any fresh date by Primary Education Department for admissions triggering a reign of confusion among parents and school authorities.
ADMISSION RULES: Under the Right To Education rules a directive was issued to schools in 2009 for admissions to poor and other backward class students in the age group of 6-14 years. The Supreme Court in a order made it binding for schools to admit students under RTE during 2012-2013 following opposition by various schools to admit students under RTE in 2009. The benefit for admission was only for Nursery or Standard I. The Court also extended the benefit factor of one kilometer distance rule to three kilometer distance from the schools. The admissions were only for below Rs 1 lakh income or students were in backward class.
Someshwar Naitam, Primary Education Officer said that admissions under RTE will continue till the quota is completed. It upto schools to admit students in Nursery or Standard I, Naitam asserted.