Nagpur Today.
On the festive occasion of Diwali, bursting crackers is considered a significant part of the fun for the kids. Since it is a time to enjoy, have unlimited fun and celebrations, restriction and caution often go to the wind.
The result of bursting of firecrackers causes great damage to the environment. The pollution level rises very high during Diwali. The firecrackers emit a lot of pollutants in the air which can be troublesome and fatal for those who are allergic to dust & pollution. The resultant air pollution triggers a train of allergies and their hazardous impact.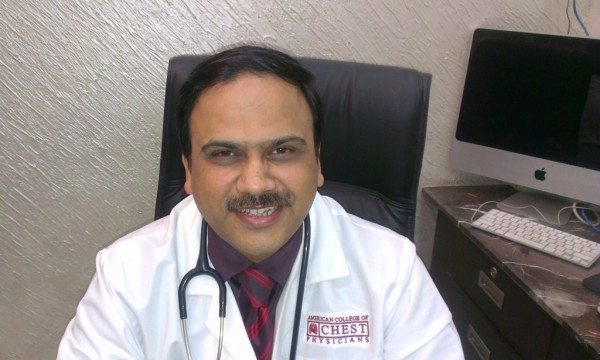 Nagpur Today had a talk with an eminent Consultant Pulmonologist Dr. Rajesh Swarnakar on various breathing and respiratory problems that arise during this festival and the preventive measures to avoid allergic reactions and breathing dilemmas.
Dr. Swarnakar said that the Carbon Monoxide mainly results in allergic conditions since it is 100% more soluble in blood than oxygen. Other  heavy metals like Potassium Chlorate, Sodium Nitrate, Sulphur, Nitrous Oxide also lead to the breathing problems.
Dust and pollutants from the firecrackers settle in the lungs and causes harmful effect on diseases such as Allergic Bronchitis, Chronic Obstructive Pulmonary Disease, Bronchial Asthma, Sinusitis, Allergic Rhinitis, Pneumonia and the Common Cold and Cough.
Due to the increase in pollutant levels, symptoms like burning sensation in the eyes, nasal allergy, skin allergy and skin rashes are often seen, said Dr. Swarnakar.
The dust particles in the atmosphere due to the bursting of firecrackers are also a cause of distress for many people those who are allergic to dust particles. People with heart, lung and other central nervous system problems are more affected by dust.
Bronchitis and Asthma patients should increase their medication intake. Especially the Asthma patients should always keep Quick Relief Inhalers ready or at hand, during Diwali season since heavy metals such as Lead and Cadmium in the firecrackers make breathing even more difficult for them..
Three important symptoms of diagnosing the breathing and lungs disorders are:
Irritation and cough due to smog
Wheezing
Shortness of breath
Precautions should be taken to avoid such breathing problems are :
One should wear a mask or put a wet handkerchief on the nose and mouth while burning the firecracker as it absorbs the harmful gases.
People with breathing diseases should stay indoors to avoid inhaling smoke from outside.
One should burn crackers at a place which is appreciably spacious and away from residential, industrial, or for that matter away from any such locality. By doing so one can save the congestion in the vicinity so that the passer-by is not affected. Moreover this shall inculcate and encourage the activity of celebrating Diwali unitedly hence improving the community relations
One should avoid the use of harmful explosives and crackers which release hazardous gases.
 One should avoid eating oily, fried and sweet food in excess as it affects the health.
While wishing the citizens of Nagpur "A very happy and safe Diwali", Dr. Rajesh Sawarnakar "gave a message saying don't forget those who cannot and may not be able to celebrate Diwali.