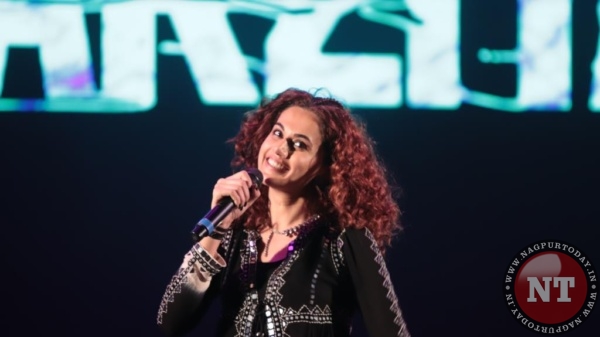 NAGPUR: "To hell with numerology! I don't care about it. I just want people to call my proper name that is Taapsee, and not Tapasee or Tapaasi." This was the concerned expressed, though in a witty mood, by popular Bollywood actress Taapsee Pannu while talking exclusively to Nagpur Today on Saturday. Taapsee was in Nagpur to for a musical show to promote her upcoming Bollywood film Manmarziyaan. She said that people would see the real Taapsee on screen in Manmarziyaan.
Taapsee said she finds it tough to hit the gym, but she loves playing squash whenever she finds time. She said she had a wish to do sky-diving. She remembered an incident from her childhood when she had jumped out from first floor balcony to go out from her locked house to play with friends.
She said that people in Telugu film industry still call her with the name Maggi, which was name of a character she had played in her second Telugu film, which went on to become a superhit.
Taapsee said that if ever she marries, she will marry to a self-made man but definitely not an actor. "And there should be respect for each other. Love will happen later. There is no love without respect," she said.
In an interesting comment, when Taapsee was asked as what will be the one thing she would like to change if she got powers to do that, she said, "If it is anatomy that decides superiority, then let's just chop off a few thing out of men and women!"