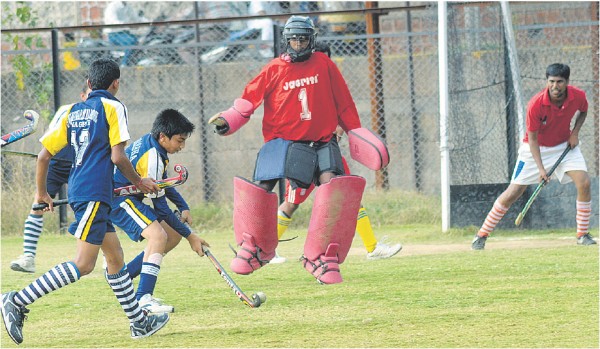 The ongoing B Division League Hockey Tournament witnessed a perfect match as both teams were at their best game. As they say the fortune favors the brave and that was the case as Swaminarayan School survived the late scare from Young Boys, Ajni to emerge victorious in the ongoing B Division League Hockey Tournament organized by Vidarbha Hockey Association at its turf on Monday.
Swaminarayan started the game on aggressive note and scored three goals in the first half. Jeet Tank opened the scoring in 19th minute with a fantastic goal. Kaustabh Natiye doubled the score in the very next minute. Neeraj Wankhede tripled the lead in 33rd minute to take Swaminarayan School in comfortable position but as always it is said that whenever you score you become vulnerable and complacent and that's what happened which gave young Boys a sniff into the game.
However, Young Boys, Ajni made a strong comeback in the second half and closed the gap in 36th minute. Caustin Pillai scored the first goal for Young Boys. This goal boosts Young Boys with utmost confidence, as they closed-in with another goal in 37th minute. The second goal definitely brought jitters in the teams as they turned towards a more defensive approach after conceding the second goal.
In the meantime Young Boys too tried their best to score the equaliser however; Swaminarayan defense successfully handled the pressure to win the game 3-2. In the second game of the day, Shakti Club defeated Ajni Sports Club 2-0. Naresh Dongre provided early lead to Ajni Sports Club in the 15th minute scoring the first goal through penalty corner. Onkar Dhate scored the second goal in 30th minute.
In the third match of the day, New Young Police Boys and Green City settled for 2-2 draw. Shailesh Tiwari of Young Police Boys scored the first goal of the match in 15th minute. Raunak Chaudhary then scored the equaliser for Green City in 19th minute.
Rahul Nagrurkar"s goal in 35th minute once again brought Young Police Boys team on the driver's seat. However, Raunak again proved star performer for Green City and scored yet another equaliser in 38th minute.
Bhartia Aqua Academy will clash with Swaminarayan School while Porwal Sports Academy will play New Young Police Boys on Tuesday.