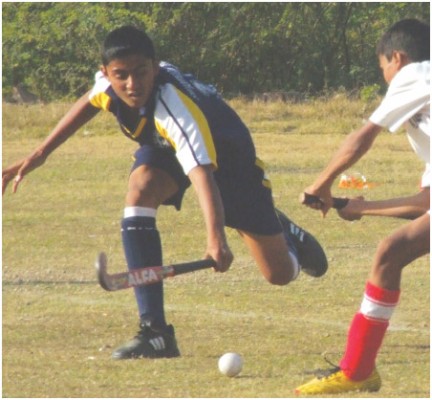 Swaminarayan Vidyalaya beat Anjuman High School by 1-0 in a match played as part of the inter-school hockey tournament in the city on Friday.
The tournament is organised under the auspices of Nagpur District Unified Hockey Association.
Right from the start, the match was played at very fast pace. Both the teams tried hard to draw  first blood but finally Swaminarayan Vidyalaya tasted  first success in 9th minute when  Gaorav Solekar netted in the process of  dodging two defenders on a beautiful pass by Tushar Gade.
Bhavik Gade Missed a golden opportunity when on the pass of Ujwal Yadav his shot went wide of the post in 24th minute.  GK Sourab Mishra played an excellent game.
For Anjuman High School, Sheikh Sameer and Mohd Ikram got chance to equalise the score in the first half but could not find target in 13th and 28th minute. In 2nd half Mohd. Zahid in 37th minute made a superb  solo effort after  beating the goalkeeper but failed  to put the ball in the net . In dying minute Shahid Hassan got chance to equalise but the goal was saved again. GK Abdul Wajid saved many chances otherwise the margin would have been more. Players try to gain control over the ball during the match played between Swaminarayan Vidyalaya and Anjuman High School in the city on Friday.