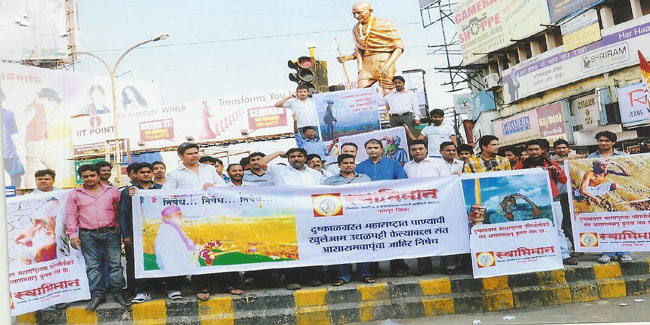 Nagpur News: Swabhimaan Sanghatana staged demonstrations at Variety Square against NMC and Asharam Bapu for wasting gallons of water during the Holi programme. The Founder of Swabhimaan Sanghatana Nitesh Rane, Nagpur District Founder Ajay Hivarkar have questioned this 'act' of Asharam Bapu. They said, Nagpur along many other cities of Maharashtra is facing extreme shortage of drinking water. Amidst these problems, Asharam Bapu's Holi in which he wasted thousands of gallon water is questionable.
Hivarkar and city Founder Ajay Chinnor said that most cities of Maharashtra were facing the brunt of drought like situation. Summer has just knocked at the door of Nagpur and yet citizens are facing so many problems of drinking water. Amidst these problems, Vedant Sewa Samiti organized the Holi programme of Asharam Bapu and wasted so many gallons of water. And NMC's nod for this programme is shameful, they said.
It is to be mentioned that former BJP National President Nitin Gadkari has assured a tanker free Nagpur but in the during past six year of BJP rule in city, BJP failed to achieve this objective of tanker free Nagpur and has been permitting to organize such 'Holi' programme of Asharam Bapu.
Swamibhimaan Sanghatana warned the ruling government to control the misappropriate behavior of NMC, otherwise the Sanghatana will hit the roads to protest against Government and NMC.
Vedant Sewa Samiti gets notice
Vedant Sewa Samiti provided 40,000 ltr drinking water for the Satsang of Asharam Bapu that was organized on March 16 and 17 at Kasturchand Park. But, most of the water was wasted for the 'Holi' celebrations. According to MMC Act 1949, Article 10 and Section 14 (p) investigations were under taken. Water Department submitted a report to Collector Saurabh Rao in this regard. The report said that 22 tankers containing 6 to 7 litre of drinking water was made available for Asharam Bapu's programme. NMC issued notice to Vedant Sewa Samiti and asked to pay Rs 12,700. The samiti has paid Rs 3,700 while the remaining Rs 9000 are yet to be recovered.