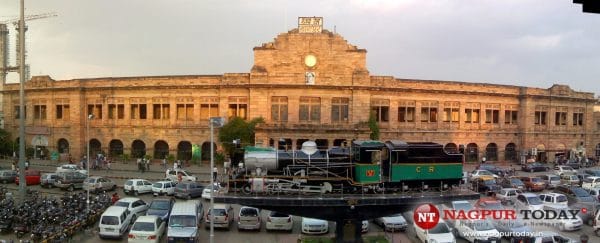 Nagpur: A surprise drive conducted by the Nagpur Division of the Central Railway at Nagpur Station revealed several irregularities in the catering services. The Commercial Department officials took strict action against unauthorized vendors, confiscated illegal items, including expired food products and unapproved brands. The drive resulted in the collection of a fine of Rs 1.75 lakh from violators, exposing the need for improved oversight and regulation of catering services.
According to Ashutosh Shrivastava, Senior Divisional Commercial Manager (SrDCM), some 240 unapproved packaged water bottles were seized along with 88 packets of expired biscuits of various brands. Four unauthorized vendors selling unhygienic food items were nabbed and handed over to the Railway Protection Force (RPF) for prosecution. We also nailed six excess platform vendors than permitted, he said
These findings underscore the urgent need for stricter quality control measures in catering services at Nagpur Station.
Four unauthorized vendors selling unhygienic food items were apprehended during the drive and handed over to the Railway Protection Force (RPF) for prosecution. Furthermore, it was reported that six shops were found to be overcharging passengers, which is a violation of regulations. The actions taken against unauthorized vendors and those exploiting passengers financially demonstrate the Railway authorities' commitment to ensuring passenger safety and fair practices.
Nine shops were found to be flouting the railways' 'free drinking water' scheme, failing to provide any arrangements for passengers during peak summer. The scheme aims to offer water at a subsidized rate to authorized vendors, ensuring access to affordable and safe drinking water for passengers. The discovery of non-compliance with this scheme emphasizes the need for stricter enforcement and monitoring to safeguard passenger welfare.
The drive, led by ACM HK Behera, involved the participation of three commercial officers, 11 inspectors, and 25 commercial staff, including ticket-checking personnel. To gather passenger feedback, even interns and trainees were incorporated into the drive. This inclusive approach demonstrates a proactive effort to address the concerns and experiences of passengers directly.
"We also found that a couple of shops did not have an e-payment option, which is mandatory. The objective was to stop revenue pilferage by unauthorized platform vending, ensure quality of food items sold at the platform, adherence to various contractual norms, availability of online payment option at stalls, and other parameters," said Shrivastava.
Action is being taken against stalls not having free drinking water for needy passengers. Several unapproved brands and packaged drinking water bottles were confiscated from the catering stalls and pantry car during the drive.
Meanwhile, the Central Railway has added nine brands of bottled drinking water in addition to Rail Neer. The vendors can stock and sell these brands to meet ever-increasing demand for drinking water, especially in the summer. These brands are regularly checked and certified by competent authority. The approved brands of bottled drinking water apart from Railneer are Oxymore Aqua, Rococo, Health Plus, Gallons, Nimbus, Oxy Blue, Sun Rich, Elvish, and Eionita.