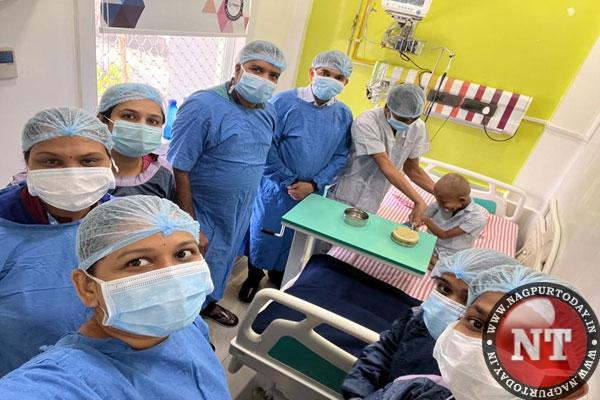 Nagpur – A remarkable milestone has been reached in the field of medical science at NewEra group of Hospitals, in Nagpur, Vidarbha, Maharashtra. Dr AtishBakane (Senior Consultant and HeadPediatric haematology-oncology and BMT) and his dedicated team of medical professionals have successfully performed the first-ever transplant for hemoglobinopathy in Vidrabha region, offering a new ray of hope for individuals affected by various forms of hemoglobin disorders.
Hemoglobinopathy encompasses a group of genetic disorders that adversely affect the production or structure of hemoglobin( Sicklecell disease,thalassemia) leading to severe anaemia, increased susceptibility to infections, and other life-threatening complications. Traditional treatment options for hemoglobinopathy were limited to blood transfusions, symptomatic management.
This ground-breaking transplant procedure took place under the expert guidance of Dr.AtishBakane at NewEra group of Hospitals Nagpur. Dr.Bakane, Dr.AnandBhutada, and their skilled team of BMT nurses, and healthcare professionals, worked tirelessly to achieve this extraordinary feat. The procedure involved the transplantation of healthy hematopoietic stem cells obtained from a compatible donor into the patient's bone marrow, replacing the faulty cells responsible for the hemoglobinopathy.
Expressing his delight and pride in this historic accomplishment, Dr.AtishBakane stated, "The successful transplant for hemoglobinopathy represents a major breakthrough in our ability to combat these genetic disorders. It is a significant stride toward providing long-lasting solutions and improving the quality of life for patients not just in Nagpur, but entire central India."
While the identity of the patient remains confidential, the patient has been discharged in stable condition from the hospital. Close monitoring and comprehensive post-BMT care will be provided to ensure the patient's ongoing well-being and to assess the long-term effectiveness of the transplant in addressing hemoglobinopathy.
This landmark achievement marks a major advancement in the treatment of hemoglobinopathies, rekindling hope for patients and their families who have grappled with the challenges posed by these conditions. The success of this transplant sets a precedent for future advancements in the field of HSCT, fueling further research and exploration in the field.Patient and relatives are grateful to hospital and team.
Dr.AnandBhutada Director of NewEra Mother and Child Hospital commends Dr.AtishBakane and his team of experts for this remarkable accomplishment. They extend their heartfelt appreciation to the selfless donors and their families who played a vital role in making this life-saving procedure possible.