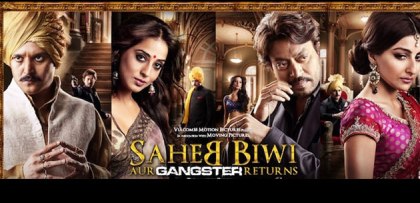 Star Cast: Irrfan Khan, Jimmy Sheirgill, Soha Ali Khan, Mahie Gill, Raj Babbar, Rajeev Gupta
Director: Tigmanshu Dhulia
Music Director:Pritam
Plot: Do you remember 'Saheb, Biwi aur Gangster? If not let me take you for a ride,
Saheb Biwi aur gangster  ends with Madhvi (Mahie Gill) – the Biwi – killing Babloo – the Gangster (Randeep Hooda). Aditya Pratap Singh (Jimmy Sheirgill as Saheb), meanwhile, is paralysed waist down from a gunshot. Madhvi takes over the politics of the area and seals sympathy votes in her favour, and consequently is elected the MLA from her territory. Saheb and Biwi's strained marital relationship, glimpses of which were visible in the earlier part, have escalated to indomitable levels now. So have Biwi's alcohol consumption, eccentricity and pining for her husband. Aditya, meanwhile, takes a liking to his stepmother's friend's daughter Ranjana (Soha). Ranjana is in love with Indrajeet Singh (Irrfan), a prince whose ancestors had lost their kingdom to the neighbouring king – Aditya Pratap's ancestor – and who is fondly called 'Raja Bhaiyya' by his people.
So when 'Bunny Uncle' (Raj Babbar) – Soha's father – hears that Aditya Pratap, a married man, has taken a fancy to his daughter, his rage is understandable. Just that the Saheb is a man who can get Ranjana's brother arrested in Dubai on false charges and then arm-twist her father to get her engaged to him. Indrajeet doesn't hesitate to announce war on his ancestral enemy's clan – and says, "Jung hogi… ghamasan hogi…" (There will be war. A dangerous one.)
In his journey to reclaiming his love from the scheming Saheb, Indra charms the Biwi, is deviated on the way, goes to every length and breadth of what his commitment to Ranjana entails him to do… In between, there are politicians to be tackled, people to be killed off, his police inspector of a younger brother (Parvesh Rana) to be taken under his wing. The journey of 'Saheb, Biwi aur Gangster Returns' is one fraught with twists in every turn of the tale.
About the characters and stars , Jimmy Sheirgill's act is spectacular to say the least. Irfan khan the  actor leaves one laughing hard at his comic antics, makes one admire him in moments such as when he shoots a Polo ball at Aditya Pratap Singh,Nobody can even afford to neglect either Mahie the actor or Madhvi the character. While you can't help not admiring her accomplishments with the brain, you end up feeling sad for this woman who can stop short at nothing in her quest of getting her Saheb back. As an addition to the team of 'Saheb, Biwi aur Gangster Returns', this Soha Ali Khan delivers a power-packed act. Parvesh Rana as the cop justifies the fact that years of Television have done wonders to chisel his acting skills
If Tigmanshu  Dhulia had been able to maintain the pitch and balance of this memorable bit, the sequel to his 2011 Saheb Biwi Aur Gangster would have been a triumph. The 'return' is a better film, but it stops short of being excellent.
Verdict: Return to go and remember to forget. A film for your collection.

:- Yash Raj Trivedi