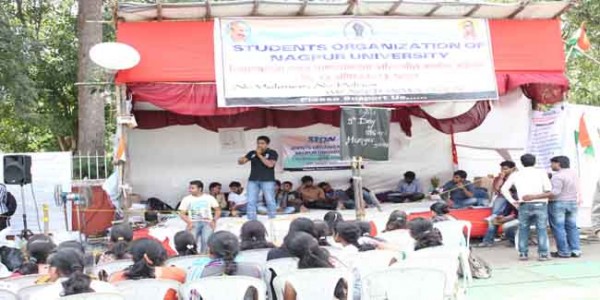 Nagpur News: The Engineering students agitating under the banner of STON have on Saturday entered into the 9th day of their indefinite fast. The STON representatives have called on the students in a signature campaign. A letter of the same will be sent to the Governor of Maharashtra K. Shankarnarayan apprising him of the agitation and hunger strike by the students. Meanwhile, one of the students Ashok Isadkar who was admitted to the Government Medical Hospital after his health worsened broke his fast on Saturday. Nagpur University Registrar Ashok Gomase administered juice to Isadkar.
In their letter the students have pressed for 'carry –on' along with other academic demands. They have mentioned that thousands of students have been protesting since the beginning of August against the policies and have met with the university officials. According to them they all returned with promises and repeated disappointments. They have been demanding rectification of lapses by RTMNU and asking for full carry-on to save students from academic loss.
The University administration in its Board of Examination meeting on August 29 arrived at partial solution of ATKT (allow to keep term) based on 2001 formula. In addition to it, Committees were also set up to look in the other major demands of the students.
The university academic council meeting was to decide on Saturday upon implementing 2001 formula.
Meanwhile the students camping at Samvidhan chowk talk to Nagpur Today about their problems and their future course of action.
Purushottam Giri who is out of hospital after his condition improved has been fasting for the past 9 days. He told Nagpur Today, " I am in fact All-Clear(AC) and not in need of a carry-on, but there are severe lapses by the university in evaluation of  the papers, revaluation, examination fees and declaration of results which take toll the students' career and concentration. The pressure is so much thanks to the unjustified policies of the university. I have seen my friends crying and thinking of committing suicide."
He added that I am supporting this protest because I have seen my friend committing suicide few years back because of the wrong policies.
Abhishek bhatt an All clear(AC) student and fast too agreed with Purushottam and demanded reforms that should be student friendly.