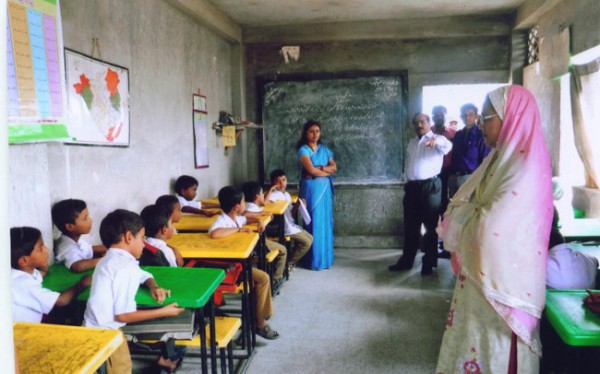 Nagpur News: The Nagpur Municipal Corporation (NMC) Commissioner Shyam Wardhane and Chairperson of Education Committee Chetana Tank, as a part of "Mission Parivartan" (Mission Change), paid a surprise inspection visit to NMC's Haji Abdul Majjid Leader Urdu High School , Mominpura Kabrastan Road. Both reviewed the project coming under "Mission Parivartan" for raising the standards of the NMC schools.
However, both Wardhane and Chetana Tank, themselves were surprised and shocked to find the students could not carry out multiplications and divisions when they visited Class I, II, III and Class V to check the quality of education. The enraged Commissioner warned the Headmistress of the school and School Inspector to improve the poor picture and also put them on notice by telling them that he is coming to school again within 8 days. The NMC top boss directed the Headmistress and School Inspector to specifically pay attention to numbers, English spelling and handwriting of the students.
Similarly, Shyam Wardhane and Chetana Tank visited the Computer Section, Library, and more classes. The Commissioner immediately directed the Zone Assistant Commissioner Raju Bhivgade to change the windows, doors and also carry out whitewashing of the entire school. He also inspected the toilet and drinking water arrangements. The Commissioner asked the school authorities to improve quality of education and said he will visit the school again in 8 days.
During the visit of the NMC Commissioner Shyam Wardhane and the Education Committee Chairperson Chetana Tank, the Gandhibagh Zone Assistant Commissioner Raju Bhivgade, Education Officer Deependra Lokhande, School Inspector Gowardhan Dhabekar, Headmistress Nusrat Naseem and others were present.