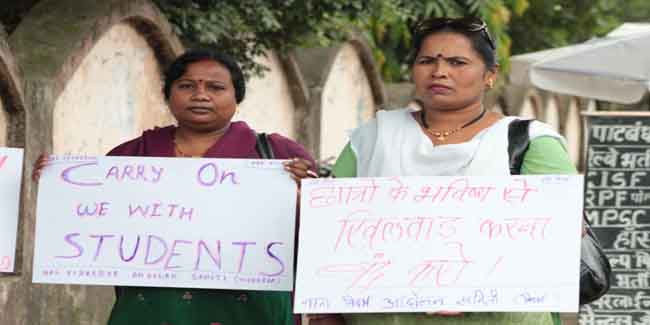 Nagpur News: The indefinite fasting agitation of the students at Samvidhan Square in Nagpur is taking extreme levels with each passing day. As their hunger strike enters sixth day on Wednesday, more political men joined in to support the students. After the Nagpur MP Vilas Muttemwar and his son Vishal Muttember extended their support to the students followed by Shiv Sena and MNS leaders hitting the spot, around 13 members of Nag Vidarbha Andolan samiti courted arrest on Wednesday morning in front of Nagpur University.
Ahmed Kadar, Convenor, NVAS told Nagpur Today "University should not play with career of the students and should find out best possible solution to demands of the students."
Those who joined Kaadar in courting arrest include Roshni  Hiranwar , Subhash Uikey, Khush Kawal Singh Anand, Iqbal Singh Salhotra , Syed Pyaru Bhai,  Akhshay Bharatiya , Dolly Phadnais,  Ashish Dawar, Shankar Bhole, Rameshwar Mahabe, Kiran Khandaith and Asha Patil.
Meanwhile, Maharashtra Navnirman Sena (MNS) representatives along with students performed ' Maha yagya' praying for their demands to be met.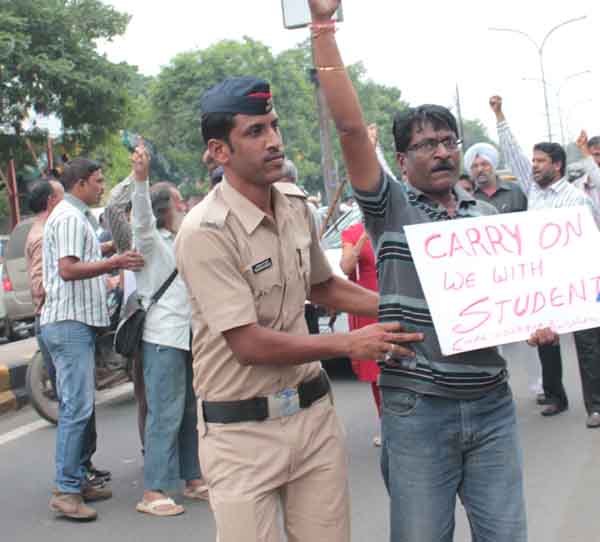 Former Member of Parliament from Nagpur Jambuwantrao Dhote today came again to Samvidhan chowk and sat with the students. Ex. Vice Chancellor  Haribhau Kedar and United youth forum President Sunil Bisht also visited the striking students.
Purushotam Giri a student on hunger strike was hospitalized on Wednesday after his health reported worsened.