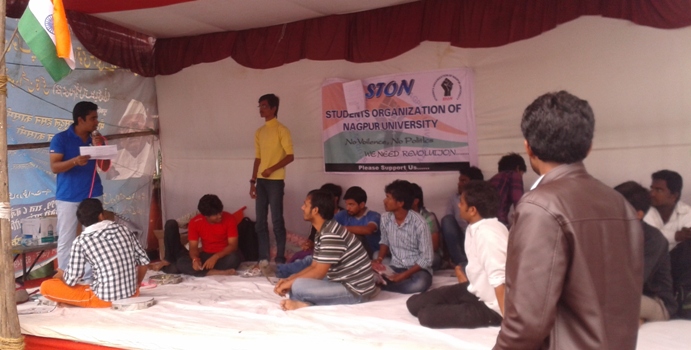 Nagpur News.
The movement of aggrieved students of RTMNU which kicked off on August 1 soared further with the students sitting on indefinite fast at RBI square in Nagpur. The hunger strike which started from Friday entered its second day on Saturday. Some people crossing by referred to the students' silent protest as Satyagraha – the famed movement that Father of the nation Mahatma Gandhi started to oppose British government policies in India.
The students on fast from yesterday are – Sharad Akre, Sandeep Kumar, Debabrata Roy, Mohammad Adil, Sujay Rajak, Pratik Chahande, Manjit Sinha, Sandeep Holambe, Purushottam Giri, Tushar Umale, Abhishek Bharti, Hemant Kumar, and Pushkar Kashyap. They were joined by Akash Isadkar and Dilip Kumar today morning.
The venue had a lively atmosphere throughout the day as more than a thousand students thronged in to support and motivate their friends on fast. Unfortunately, RTMNU continues to play deaf and blind to students' plight and has made no move to accede to our just demands.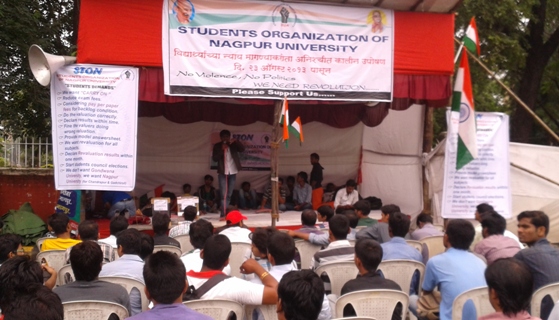 University insiders inform us that NU's continuing inability to value exams in a timely manner year after year is due to groupism and favoritism by members of the University Board of Studies (BoS) in assigning valuation work. We are told that BoS members allot Valuation work only to their own friends and supporters as quid pro quo for having voted them into the BoS. A larger number of eligible lecturers are not allotted any valuation work at all, the continuing consequence of which is delay in declaring exam results.
Students on fast were examined by Dr. Siddiqui of GMC, who declared them all as being perfectly healthy from on-stage. Shri Ravishankar Madgaonkar of the Shivrajya Paksha addressed the students and extended his organization's support to the movement.
A candle march will be organized at 6:30pm starting at RBI Square on Sunday.