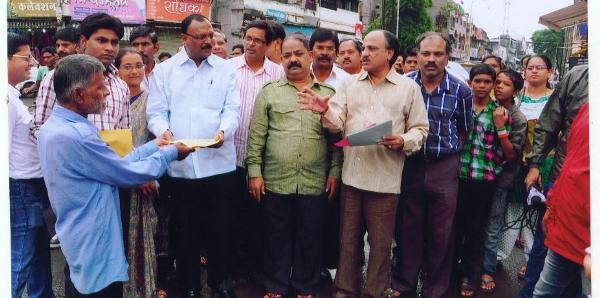 Nagpur News: The much hyped Awareness Campaign against deadly diseases, undertaken by the NMC on August 23, drew a severe flak from the Aam Aadmi Party (AAP). The AAP termed the Campaign as "publicity stunt at the cost of crores of public money" for personal benefits. "The Disease-Free Nagpur" campaign is nothing but a fake and fraud for which the NMC spent crores for the publicity stunt and for personal benefits at the cost of public taxes with impunity," the AAP said in a press release.
"The network of haphazardly constructed buildings and the half constructed structures, the stagnant water in the potholes are the factories where Dengue and Malaria are born. And, when a troubled citizen complaint against the prevailing conditions, the complaint falls on the deaf ears of the authorities. The concerned authorities force the complainant to follow up and run from one department to another like a football. However, when an RTI query is slapped, the concerned authorities come to sense but send the fourth class employees to spray the pesticides instead of inspecting the sites by themselves. And complete the paper formalities. The most shocking fact in this regard is the employees are provided with 50 milliliter of pesticide for spraying the area of about 10,000 sq ft," the AAP press release claimed.
The AAP leaders Rajesh Pugalia, Sujit Bothra, Rakesh Dhariwal, Bablu Bhojwani, and Vijay Ochal have appealed the Mayor Anil Sole to immediately stop misusing public money over such fake campaigns. If the mind is clean, the Mayor should first dare to initiate actions against who are responsible for water holes and recover hefty fines from them, demolish the half constructed structures  which are factories of Dengue, Malaria. Then only the deadly diseases would be eradicated completely. The ever growing slums, citizens living in filthy areas have been working as a mirror. After witnessing the present conditions, whether the award for the most cleaned city was received or was purchased id doubtful, the AAP leaders asserted.