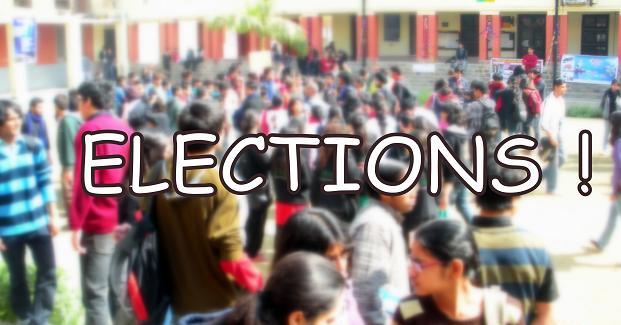 Nagpur News.
The students council elections at Rashtrasant Tukadoji Maharaj Nagpur University appear to be tough this time as analysts predict way to senate only through coalition. The elections for the coveted post of President and Secretary will take place on Tuesday at 3 pm.The elections will be held at Buty Hall, near Ramdespeth.  It may be noted that girls are dominating this year's election. Eight out of 15 members of the student council this year are girls. This is the first time in history of student elections of RTMNU that girl students have been elected to the council in such a large number.
The students organization have girded up their lions to conquer the top posts whereas a break even situation appears more evident. Keeping this fact in mind, the contesting groups had also kept the option of alliance open. The Akhil Bharatiya Vidyarthi Sena and Vishvavidyalaya Vidyarthi Sangram Sena are set to lock horns for the coveted post.
Akhil Bharatiya Vidyarthi Parishad (ABVP) has intensified its campaign while eyeing on prospective alliance. Vidhyarthi Sangram Sena has not opened its card on whether it will go for alliance with other organization. Initially it was being said they would tie up with Nationalist Student Congress Parishad. Meanwhile, Sangram Sena  has claimed support of 6 canditates on its side.
15 students nominated on the Rashtrasant Tukadoji Maharaj Nagpur University students council through selection from amongst the secretaries elected from the students councils of PGTD are as follows :
A.V. Meshram. K.D.K. College of Engg,Ngp.
L.S.Lambat. Late Manohar Kamadi M.V,Ngp.
 S.D. Maske. Shri Sant Gadebaba M.V. Hingna.
Priti Wanve. Athawale College of Social work, Bhandara.
A.K.S. Sheikh. Vivekanand.M.V. Bhadravati.
Madhuri Humane. Aniket college of social work,Desaigang(Wadsa).
Dipa Bawankar. Rajiv Gandhi College of Social work, Gondia.
Apeksha Kokate. S.K. Wankhede  University college of education.
Roshni Fasala.Gurunanak M.V. Ballarpur Dist.Chandrapur .
Swati Kodape.Mahila Mahavidhaylaya.
A.S Rathod.B.D College of Engg.Sewagram,Wardha.
R.R.Kishnani. G.H. Raisoni.Nagpur.
Pallavi Gandhe. Ashok Moharkar.MV.Bhandara.
Renuka Gandhare.SKB College of Pharmacy.