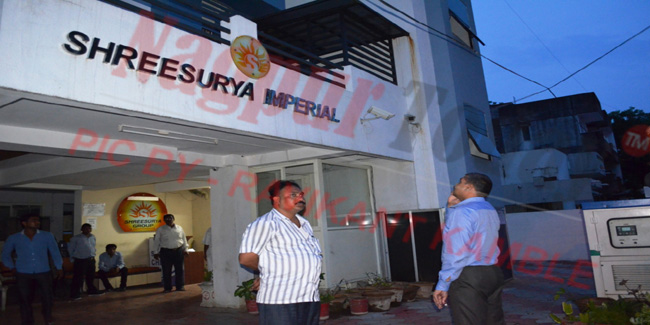 Nagpur News.
The alleged mastermind of Shreesurya Investment scam Sameer Joshi, also the chairman of the company, has been giving tough time to the cops interrogating him over the multi-crore fraud. The grilling officers were going too slow on questioning Joshi either. As the police custody till October 21 ends on Monday, police sought more time from the court as it was yet to receive leads in the case. The court extended Joshi's custody till October 28. Meanwhile, Joshi opted to switch his counsel and replaced advocate Sudeep Jaiswal who represented Joshi till now, with advocate Jaltale.
The probe officers could not squeeze out vital information from Joshi as to where he invested the huge amount collected from over 5000 people. He even did not say anything about self-styled godman from Anjangaon. It was alleged by CPI's district secretary Jammu Anand that Joshi had donated around Rs 50 crores to a communal outfit on the advice of so called "Maharaj of Anjangaon" in Amravati district.
Cops ignored crucial laptop
Crime Branch's EOW officials did not seize Joshi's laptop when they arrested him recently. The laptop reportedly carried sensitive information that could lead to breakthrough, sources said. Sources hinted at the sheer carelessness on the part of investigating officer Vishnu Bhoye who later confirmed that he could not track Joshi's laptop yet.
Pallavi's arrest soon
Even as the arrest of Joshi was delayed well by a month, his wife and partner in the company Pallavi was still out of police net. When quizzed in this regard, both Bhoye and crime branch deputy commissioner Sunil Kolhe asserted that Pallavi would be arrested soon.
Imported cars to be seized
Joshi reportedly own few hi-end cars of foreign make while his wife fondly flaunted highly expensive jewelleries on many occasions. The total cost of these cars when put together goes in crores of rupees. Sources informed that Joshi had bought brand new BMW at the cost of Rs 1.30 crores just one and a half month before his arrest. This apart, Joshi has seven other plush sedans and SUVs that include fully loaded models of Ford, Mercedes, Skoda and other expensive cars. He has allegedly provided some of these cars to the officers in his office to avoid seizure.
It is learnt that some businessmen from Gujarat had also invested huge funds in the ponzy schemes of Shreesurya. The two had reportedly arrived Nagpur to recover their money from Pallavi as Sameer is behind the bars. Souces said Pallavi used to attend the meeting that happened between Joshi and these businessmen.
Joshi misguiding police : Sanjay Agrawal
Meanwhile, Sanjay Agrawal of People Against Corruption had demanded strict action from the cops to expose the actual mastermind behind the scam. He said it was surprising to see Joshi amassing plenty of wealth in such a short time span.
Agrawal claimed that Joshi was misguiding cops over providing information on the avenues where he had kept the funds. He said contradictory to Joshi's claim that he put all the money in his other 10 companies, the paid up capital of these companies at present stands only at Rs 1 lakh. He also refuted Joshi's explanation on investing money in share market as Joshi never told the investors about any such move.
He also informed that there are around 8-10 such companies in Nagpur, which are luring innocent people in the honey trap of high interest rates. He claimed that such companies would also be exposed soon. Such companies should also be investigated through CBI, he said.
Commissioner promises to reveal investors' list
Two days back a delegation of Communist Party of India led by party's district secretary Jammu Anand, met Police Commissioner K.K. Pathak and handed over a memorandum to him regarding Shreesurya scandal.  Pathak said that the department would accept concerned documents and the same would be treated as complaint. Anand informed that during the discussion the commissioner assured him of disclosing the list of investors, in possession of the police. However, Pathak added that he would do so only after consulting other police officers who are directly involved in investigation.
The delegation also appealed Pathak to share the outcome of investigation at regular interval atleast once in two days which will generate confidence of the investor so that they will come forward to lodge the complaint.  The delegation made it clear that now all their hopes rest on police department which will be responsible to unearth the exact amount the Joshi couple collected and whereabouts of the investment. They also demanded Joshi's link with the said maharaj from Anjangaon.