Blood Donation Camp held to commemorate 28th Foundation Day Celebrations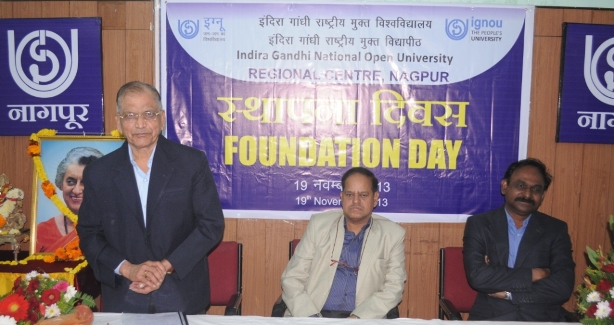 Nagpur News.
When many institutions organize a blood donation camp, they have to request many people to come forward and donate blood. What was unusual about the Blood Donation drive at IGNOU was as soon as it was declared that a Blood Donation Camp is proposed to be organized at IGNOU Regional Centre, many former students readily came forward and participated in the event by donating blood.
The Blood Donation Camp was organized as part of the 28th Foundation Day Celebrations of Indira Gandhi National Open University (IGNOU), at its Regional Centre. The Centre organized the Blood Donation Camp on November 19, 2013 to emphasize the importance of Blood Donation among its former and present students. The donors included students, study centre functionaries like Coordinators, Programme In-charges and Regional Centre functionaries including the Regional Director himself, Assistant Regional Director and other members.
This noble deed was followed by a function in which Director of National Cotton Research Institute Dr K R Kranthi was the Chief Guest and 74-year-old MBA student of IGNOU, N G Swarnakar was the Guest of Honour.
Regional Director of IGNOU Dr P Sivaswaroop while speaking to Nagpur Today, informed that at IGNOU, we rededicate ourselves, reaching the un-reached and in providing quality education at the doorsteps of desiring learners.
The Regional Centre in the city was established in 1985, started with 2 programmes has now 250 programmes serving 3 million students in 43 countries. It is one of the largest Universities in the world. IGNOU is the People's University.
He further informed that India-Africa Virtual University will be coming up very soon. IGNOU will take virtual classes in Africa through video-conferencing and through advanced electronic means. This is an initiative of Ministry of Foreign  Affairs, Government of India.
73 year old  Former Senior Scientist of NEERI N G Swarankar  and a working administrator with of Academy for Ethical Clinical Research Training, who has joined the MBA course of IGNOU at this age enlightened the gathering with his views on how these courses can open up unique opportunities. He added that  in this competitive world, a person has to update himself to meet the newer challenges and take advantage of the opportunity available. Whatever the age, challenge and opportunity should always be endeavored. Change creates opportunity, he emphasized. Swarnakar added that he had a desire to pursue the management course through IGNOU. When he did get the opportunity, he grabbed it to cherish his desire. He said that age is never a barrier and only the willingness of the person is the deciding factor.
During his 24 years of service as Scientist in NEERI, he learnt many things. His hunger to gain more knowledge and intricacies of management at this age seems to be getting quenched only now. He thanked IGNOU for giving him an opportunity to study at his own pace.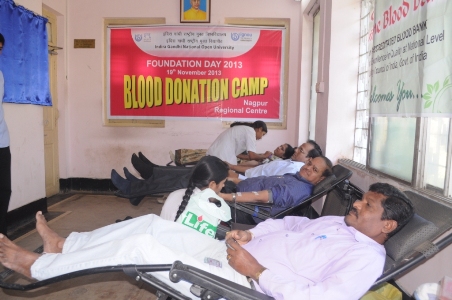 Dr. K. R. Kranthi in his address lauded IGNOU for achieving illustrious growth in terms of enrollment and reaching out to people. He said that he has an innate desire for painting which brought him several first prizes including a personal meeting with Late Shri Rajiv Gandhi when he was the Prime Minister. He said that he has a passion for painting but do not have a formal certificate. He desired to become now as IGNOU student to pursue his passion. He assured to collaborate with IGNOU,  Nagpur so that the farmers and youth of Vidarbha can be benefited in Agricultural and other fields.
The function was conducted by Dr. Vikas Singhal, ARD and vote of thanks proposed by Deputy Registrar Y S Bhambular. The function was well attended by invitees and Regional Centre officials including Dr. R. Meena, ARD, Dr. S. I. Koreti, Dr. Dubule, Dr. Wath, Prof. Dheeraj Rane, Prof. Pushpa Kukde, Dilip Sonkusale, C. H. Rajgure, D. Sheshadri and others.