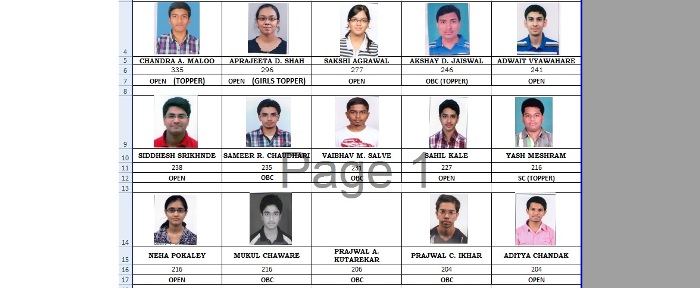 Nagpur News:
Around 100 students have succeeded in cracking the IIT main examination from Ambedkar college. The first three toppers are as below.
1. Mr. Chandra Maloo 335 Marks.
2. Ms. Aparajita Shah 296 Marks.
3. Ms. Sakshi Agrawal 277 Marks.
Also the topper from ST Category is Mr. Abhishek Raut (136 Mark), from SC Cateogry is Mr. Yash Meshram (216 Marks) & from OBC is Mr. Akshaykumar Jaiswal (246 Marks).
Shri. Sadanadji Fulzele Secreatry P.P. Dr. Babasaheb Ambedkar Smark Samiti, Dr. R. Krishnakumar, VC (YCMOU), Prof. S.M. Shende Principal (officiating) and Prof. V.B. Varangaokar Vice Principal and all Staff Members have Congratulated the Sucessful Students.