Brushing up concepts leads to top JEE Mains from Nagpur, Says Chandra Maloo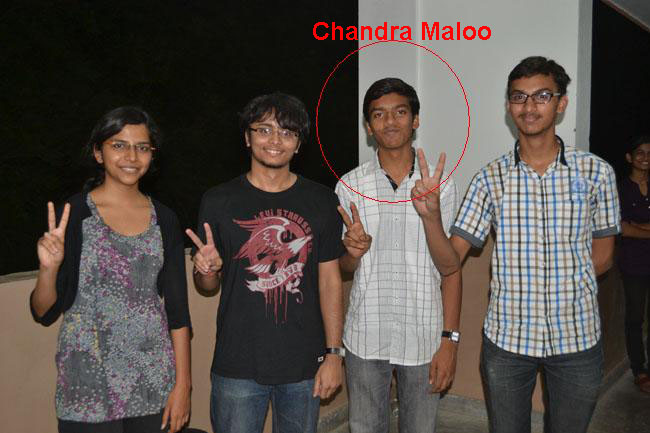 Nagpur News: Chandra Maloo, the city lad wore calm on his face as he came to know about his score in the JEE Mains 2013 the results of which were declared on Tuesday. Student of Ambedkar College in Nagpur, Maloo also topped the city results with the score of 335 out of 360. He appeared in full control and laced with utmost confidence to clear the next level IIT Advanced – the final entry gate for admission to IIT. On a candid chat, Maloo shared his line of preparation for JEE Mains and future course of action for JEE Advanced. The Excerpts…
Nagpur Today:  What were your expectations of marks for JEE mains ?You scored 335.
Chandra : I was expecting around 330. But, I knew I would get around 335.
Nagpur Today: What's your preparation strategy for JEE Advance ?
Chandra : Brushing up my concepts thoroughly and focusing on basics.
Nagpur Today: Is this your first attempt ?
Ans: Yes, first attempt.
Nagpur Today : How many hours do you study on daily basis ? How did you divide it subject-wise?
Chandra : 10 to 12 hours daily and subject-wise it varied. I gave equal weight-age  to all subjects.
Nagpur Today: Whom would do you like to give the credit of your success ?
Chandra : I have improved a lot since I have joined IIT-HOME. The credit goes to Nisha madam (proprietor of IIT HOME), all the teachers and the entire staff of IIT-Home and my Parents.
Nagpur Today: How much are you expecting to score in HSSC exams ?
Chandra : Above 90 Percent.
Nagpur Today:Which IIT would like to join ?
Chandra : Any of  the IIT. IIT itself is great thing.
Nagpur Today : Tell us about your family Background ?
Chandra :My father is a Insurance and financial advisor. My mother is a house wife. My elder brother is working with Wipro Banglore and my sister is doing M.SC in Bio chemistry.
-As told to Charles Salve