Nagpur: The National Service Scheme unit of Abha Gaikwad Patil Colleg of Engineering Nagpur was celebrated "150th Birth Anniversary of Mahatma Gandhi" with with zeal and fervour in the campus here on 2 Oct.2018.
The programme started with Lighting of the traditional lamp by the hands of all dignitaries & followed by Floral Tributes to the Portrait of Saraswati, Mahatma Gandhi.
Hon'ble Principal, Dr. Prashant Kadu highlighted biography of Mahatma Gandhi & Some lesser known facts about Mahatma Gandhi & Mahatma Gandhi's thought in his opening remark,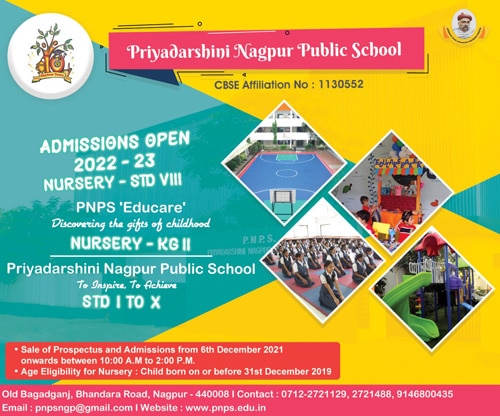 The Chief Guest of the Program Hon.Shri Chandrakant Wankhede Social Activist, Journalist, Writer said that National Service Scheme (NSS) volunteers of abha gaikwad patil college of engineering is being working in rural areas, adopted villages and school to the serving the cause of society through survey, education and health awareness programme.like Unnat Bharat Abhiyan. He appreciated to the NSS Volunteer. and guided for spreading gandhian thought in the villages.
Guest of Honour Hon.Shri Nitin Lonkar Butibori Manufactures Association, Butibori, Nagpur said in speech it was Gandhiji who made India's freedom struggle distinctive, adopting a mode of struggle hitherto unheard of. The United Nations had hailed Gandhiji as the guardian of non-violence.He said that no matter how much time went by, Gandhian values would never lose their sheen. Food shortage and unemployment were major problems that India faced today. There were many similar challenges before the nation. There were answers to all such challenges in Gandhian thought.
The executive Director of GPGI Hon'ble Dr.Anil Hood said that "Many parts of the world are facing problems because leaders there do not understand the message of Mahatma Gandhi," He also claimed that the legacy of Mahatma Gandhi was adopted by many world leaders like Nelson Mandela who made it their own and used in their struggles against injustice and oppression.
In the end of the function the vote of thanks was given by the NSS Program Officer of the college, Prof. Praful R.Randive. The program was coordinated by Prof.Vipul Narad. And NSS Staff Prof. Rasika Kachore.
The program was successfully conducted under the guidance of Hon. Prof.Pragati Patil, Vice-Principal, Abha Gaikwad Patil College of Engineering for her un-stined support for this function.
The occasion was graced by the presence of Hon'ble Dr. Mohan Gaikwad-Patil Chairman GPGI, Hon'ble Prof.Sandip Gaikwad Patil Treasurer of GPGI. Hon'ble. Dr. Prashant Kadu Principal of the college. Hon'ble Dr.Anil Hood Executive Director of GPGI. Hon'ble.Prof. Pragati Patil Vice-Principal of the college. Prof.Ritesh Banpurkar, HOD,Mechanical Engineering Department. Prof.Gajanan Patle, HOD of Computer science & Engineering department. All the faculties and non-teaching staff of various department of the college worked as a team to make this event successful.