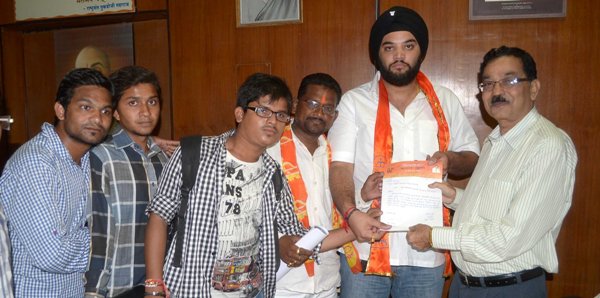 Nagpur News:
Shiv Sena District Vice President Karan Tuli met registrar Ashok Gomase demanded immediate decision and gave 24 hours deadline and warned of massive protests if the demands are not met. Karan Tuli along with corporator Bandu Tadvekar sat on hunger strike with students this evening .
Earlier in the day large number of engineering students from Wardha , Gondia and Gadchiroli under aegis of Maharashtra Navnirman Sena(MNS) gathered in front of university premises and shouted slogans demanding carry on.
The ongoing protest of Engineering students at Samvidhan Square is taking new turn every now then. On the 5th day of the protest two student factions led by shiv sena and MNS met the University officials.
As the protest is gaining momentum, factions among the student organization protesting can be clearly seen. with two groups – one of them STON led by Shiv Sena and one led by MNS. Aam Aadmi Party which was earlier leading the protest with the students are now no where to be seen there.