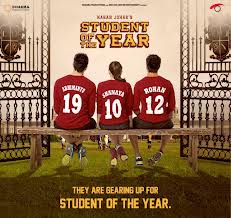 Film: Student of the year
Cast: Sidharth Malhotra, Alia Bhatt, Varun Dhawan, Rishi Kapoor and Ronit Roy
Director: Karan Johar
Rating: **1/2
Boooom Karan Johar is back to Boom and back to school, 14 years after Kuch Kuch Hota Hai made him a Bollywood top draw. Candyfloss rules again, designer hunks and PYTs preen and pose, and if this film was made in 4D you could probably smell the bubblegum flavour all along.
Alia Bhatt, Siddharth Malhotra and Varun Dhawan-  Bollywood's latest babe and babas- have also been amply touted as the next big things during the film's run up to release. If Karan was out to create a package that wholly pushes the GenNow tempo, Student Of The Year (SOTY for the cool effect) has little USP beyond its pretty cast.
This is Karan Johar's fantasy land on his canvas, so you have the rich douchebag Rohan Nanda (Varun Dhawan) who (predictably) has daddy issues. With his father (Ram Kapoor) being one of the donors for the school, he has a posse of guys who hang on to his every word. While his rich, hot and spoilt girlfriend Shanaya (Alia Bhatt) hankers for his attention, he still keeps wandering to the other hottie Tanya (Sana Saeed).
When poor-orphan-with-a-scholarship, Abhimanyu (Sidharth Malhotra) joins the school, he threatens Rohan's fiefdom. But soon the duo warm up to each other and become good friends. Heck, Abhimanyu even helps Rohan win back Shanaya after she throws a hissy fit, though Abhimanyu loves her!
Then dean Yogendra (Rishi Kapoor) announces the Student Of The Year competition and all hell breaks loose. Friendships are threatened, fistfights follow and there is lots of love lost.Class divide, however, hardly attracts significance in such a designer set-up. So, Abhi and Ro become friends after an early tiff.
To stuff around two and half hours with fluff, you need a spot of mush of course. Varun's girlfriend Shanaya (Alia Bhatt) is drawn towards Abhi, opening up a conflict that escalates as the school gears up for the annual Student of the Year contest. Its a ridiculous contest that Dean Yoginder Vashisht (Rishi Kapoor) touts as a three-way test of academics (students unravelling riddles Da Vinci Code-style), arts (dancing to remixed Disco Deewane beats) and athletics(boys and girls pitted together in swimming, biking and running competitions).
The songs are the high points of the film. Alia's introduction with Gulabi aankhein and other songs like Yeh chaand sa roshan chehra, Radha, Disco deewane are all chart busters. Vishal-Shekhar deserve a a plaudits for these foot-tapping numbers. The choreography of each number is quite admirable. Ishq Wala Love, the romantic track has excellent music, but could've been better if the lyrics made any sense.
Strange, but you don't mind the film despite its unapologetic brainlessness. The key lies in Karan's storytelling. For all its pulp packaging, SOTY doesn't have a single dull moment. The greenhorn trio is a treat to watch too, primary reasons why you'll love the film. Karan also adds the right props to grab eyeballs- Rishi Kapoor's Dean Vashisht gets a gay spin and the veteran pulls it off with comical restraint. Kajol and Boman Irani get delightful cameos. They all fit fine into Planet Picture Perfect, as only K.Jo creates it.
All in all, SOTY is not something you would want to miss if the surreal setting with bubble gum romance is your calling. The performances make this film a great watch. It's a treat for all K Jo fans and if you didn't really enjoy Kuch Kuch Hota Hai, K3G and other such films by the director, you can easily skip this one.
Watch the movie to find out who wins.