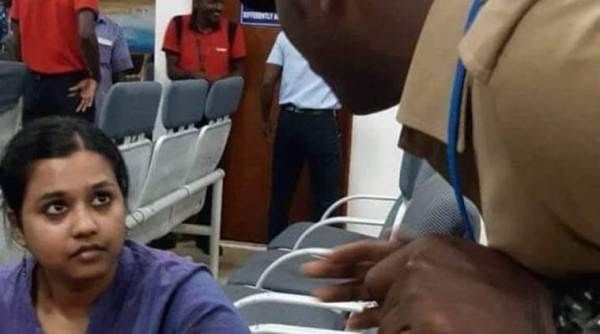 The 28-year-old student, Lois Sofia, who was arrested yesterday for sloganeering against the BJP in a flight has been granted bail. Sofia, who is studying in Canada, was sent to judicial custody for 15 days after she shouted "fascist BJP government down, down' on board a flight in the presence of Tamil Nadu BJP president Tamilisai Soundararajan who filed a complaint.
The student was on her way home from Canada on an IndiGo flight to Tuticorin. The incident took place after the flight landed at the Tuticorin airport.
A senior police officer said Sofia was taken into custody after Tamilisai filed a complaint with the airport police. Sofia was taken to hospital following complaints of a stomach ache.
Tamilsai defended her complaint saying, "Freedom of Speech can be there. If you and I speak outside, it is fine. But inside an aircraft, in front of passengers she shouldnt talk like that, right? Again she shouted saying that she has freedom of speech. The way she behaved, raising her fist, she was doing that inside the aircraft also saying BJP fascism ozhiga. I was just passing her, she stood up and shouted showing her hand like that."
The police had registered an FIR under two sections of the TN Police Act and the Indian Penal Code for causing public nuisance. She was produced before a judge, who remanded to 15 days of judicial custody.
Sofia had been involved in writing articles seeking the closure of Vedanta Ltd-owned Sterlite Copper.