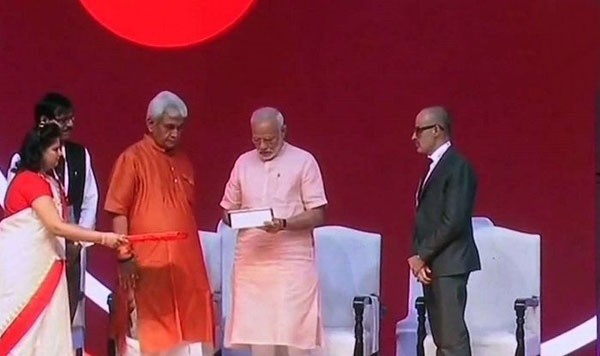 New Delhi: Prime Minister Narendra Modi launched the India Post Payments Bank (IPPB) on Saturday which replaces ATM cards and debit cards with QR (Quick-Response) cards. The QR cards work on biometric authentication and cannot be used as a debit card and in ATMs. However, cash transactions and cash withdrawals are possible through QR cards without requiring passwords or PINs.
Currently, three types of savings accounts are offered by IPPB namely regular, digital and basic, in addition to a current account. The app launched by IPPB can be used for mobile banking and to open an Aadhaar-based account. Thus the app eliminates the need to visit a post office. Though IPPB has already launched the mobile app, it would take a few more days to become fully functional.
These accounts come with a 4 per cent interest rate, compared to the 6.85 per cent interest rate (approximately) offered by its competitor Paytm Payments Bank. Moreover, one can deposit upto Rs 1 lakh and cannot avail loans. The IPPB allows three free withdrawals every month, after which Rs 20 will be charged for every additional transaction made by the account holder.
Every QR card has a unique QR code or barcode that helps in identifying the account holders. With the help of a smartphone or through micro-ATMs, the QR code can be deciphered to identify the IPPB account holder. After the customer verification, the postman or banking correspondent will verify once again using the biometric data. After the verifications are over, the postman delivers the cash at the customer's doorstep at Rs 25 per cash transaction. QR cards can also be used for transferring money, paying online bills and for cashless shopping.
QR card transactions will soon be available at small retail stores, including small merchants and kirana stores. The transactions can be made with the help of a postman or through post offices or Grameen Dak Sevaks (GDS).