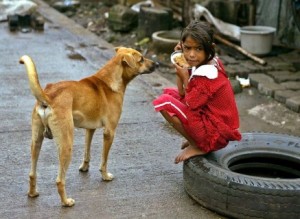 Nagpur News: The stray dog menace has reached alarming level in Nagpur even as the six year boy from deputy signal had to pay the price with his life two days back, following the dog bite. Not a single locality in the city is seen to be spared by the problem. However, things get more serious during the night hours when the stray dogs gather to hound the commuters. On the other hand, the Nagpur Municipal Corporation has turned a blind eye towards the soaring problem that has added to the woes of citizens.
The situation has worsened in the areas like Manewada road, Medical Square, Imambada, Timki, Boriyapura, Kamal Chowk, Gangabai Ghat road, Maharajbagh square, Khamla, Telecom Nagar, Wardhaman Nagar and many other areas where the citizens often scare to move through as the night falls. Dogs are often seen chasing away the two wheeler riders.
The health department of NMC has recently served notices to the dog owners who let  their pets poop in the open. However, the seemingly concerned officials ignored the fact that how the stray dogs are bothering the residents. The issue was even raised by a corporator Arun Dawre in the NMC house, however, his concern were outrightly discarded. Now with the death of this six year old boy from rabies, the issue has returned to shroud the city confirming the alacrity of situation.
Disturbance day and night
Somalwada resident Reena Gulhare commented that while the wandering dogs keep eyeing the citizens during the day time, they bark continuously in the night disturbing the peak sleeping hours. She cited an incident in her locality in which few stray dogs pounced on the kids playing in the ground.
Children under fright
A resident near Bharatwada road Kapil Gupta told that a recent case of dog bite, in which a child was bitten, has terrorised all the other kids to such an extent that they are even scared to step out of their houses. NMC should take cognizance of the circumstances and initiate the strict drive to contain the menace.
Adding to the Litter
A housewife Babita Shivhare residing nearMedical Squarecomplained of the dogs littering her courtyard too often. She is now stressed of cleaning it up every now and then. She even complained the same to her Zone of NMC arm but in vain. Often the dogs jump on the people passing through. Now even walking on the roads seems testing times, thanks to the apathy of NMC.