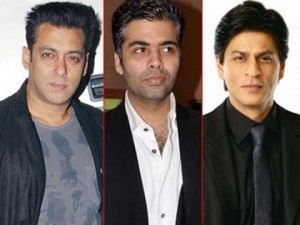 Nagpur Today Bollywood News: The sets of 'Dabangg 2' at Mehboob Studios were filled with spectators for the special item song 'Fevicol' that was being shot with Kareena Kapoor and Salman Khan. The entire Khan family Arpita, Alvira and Atul turned up to see Salman Khan and Kareena Kapoor's dance number.
There was one extra guest who came as the biggest surprise – Karan Johar! Everyone wondered what Karan, Shah Rukh Khan's best friend, came to meet Salman khan and kareena .
A source present on the set says that "karan came at studio at 5pm ,stayed on for two hours on the sets. He was busy chatting with Salman. Both Karan and Salman looked quite friendly. Later Karan Johar was seen spending some time with Kareena." But this time his focus was more on Salman rather than his newly-wed friend! While Kareena was busy taking instructions from her choreographer Farah Khan Hmm, it seems that after Shahrukh, Karan wants to come in the good books of Salman now! Recently Flim make K J offer role to Salman while on the set of big boss 6.
As we know Karan Johar Is good friend of shahrukh khan . There is coldwar between srk and Salman and there is no end to Salman-Shah Rukh war. At Mukesh Ambani's bash in Sachin Tendulkar's honour, The Dabangg Khan said: "Sachin ka record todna mushkil hi nahi namumkin hai. Aur yeh Don nahi main bol raha hu." When reporter asked I s he talking about the SRK ? The Dabang Khan give a smart answer that his dad Salim Khan had written the dialogues for Amitabh Bachchan starrer: "Bol bhi sakta hu kyunki mere father ne likhi hai picture (original Don). Rights toh legally unhi ke paas hai, Amitji ne ki hai yeh picture, itna toh haq banta hai."
Once upon a time in the 1990s, Salman Khan and Shah Rukh Khan called each other brothers. But now the rivalry between the two is out in open. While Salman says 'SRK and I can never be friends,' SRK thinks 'Salman and I don't talk which is absolutely right.' Things went to really bad when Shahrukh At the party of Katrina Kaif's birthday made inappropriate comments about Salman's ex-flame Aishwarya Rai Bachchan which annoyed him.
But now Katrina Kaif who close one to Salman is working for with the King Khan At Jab Tak Hai Jaan other side King Khan good friend Karan Johar getting close to Salman khan. That why we call this is bollywood where things and realtion change with the time .
By RJ Bharat