Storage Water Lake and Senior College at Shirdi inaugurated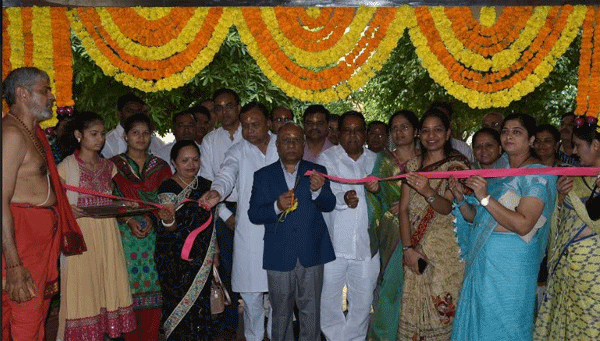 Shirdi:Considering the relevance of Shri Saibaba Samadhi Centenary Year, initiation of a project for new storage lake with Bhoomipujan and Shri Saibaba Senior College was performed at the hands of Chairman of the Sansthan Dr. Suresh Haware with ritual worship.
On this occasion Sansthan Vice Chairman Chandrashekhar Kadam, Chief Executive Officer Shrimati Rubal Agrawal, Trustees Bhausaheb Wakchoure, Municipal Council Chairman and Trustee Mrs. Yogitatai Shelke, Dy. Collectors Mr. Dhananjay Nikam and Mr. Manoj Ghode Patil, Dy Executive officer Mr. Babasaheb Ghorpade, Dy Superintendent of Police Mr. Anand Bhoite, Donor Sai devotees Mr. Samheta, Administrative Officer S/shri Suryabhan Game, Dilip Ugale, Ashok Auti, Dy Executive Engineer Mr. Raghunath Aher, Dr. Arun Kumbhare, Advisor, Shri Saibaba College, Prof. Vikas Shivgaje, Donor Sai devotee Mr. K. V. Ramani, Mr. Bhaskaran, Water Supply department Chief Mr. Rajendra Jagtap, teachers of educational complex, students, staff and Shirdi residents were present on this occasion.
Considering the water scarcity experienced during summer on the occasion of Shri Saibaba Samadhi Centenary Year and through a donation from Mr. Samheta, from Mumbai and as advised by Maharashtra Jeevan Pradhikaran a new increased storage lake of an area 202m x 141 m and a storage capacity of 121 ML will be created at Sansthan owned area of 3 Hectare 19R at gat No. 245 located at Nimgaon-Korhale. The Bhoomipujan of this as well as inauguration of a Senior College that was being demanded for the last two years was carried out today.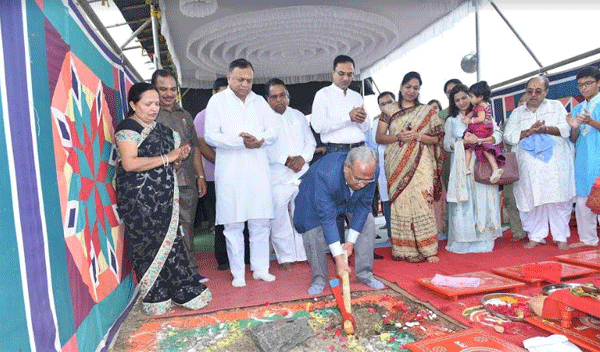 A total of 258 students have taken admission in Arts, Commerce and Science branches at this college. Three of the students being admitted to the First Year were welcomed at the function.
While speaking at the inauguration ceremony of the Shri Saibaba Senior College, Dr. Suresh Haware said that the day needs to be historically noted. The Senior College delayed for the last 15 years is being inaugurated today. He congratulated Sansthan Vice Chairman Chandrashekhar Kadam, Chief Executive Officer Shrimati Rubal Agrawal and all the officers for the same.
On the occasion of Shri Saibaba Samadhi Centenary Year many projects and schemes have been completed including All India Radio Station, Shirdi Airport, Free Prasad Bhojan, Free treatment for poor and needy patients, Replacing of old Hospital machines and others. Very soon a fully facilitated independent building will come up for Solid Waste Management and Educational complex.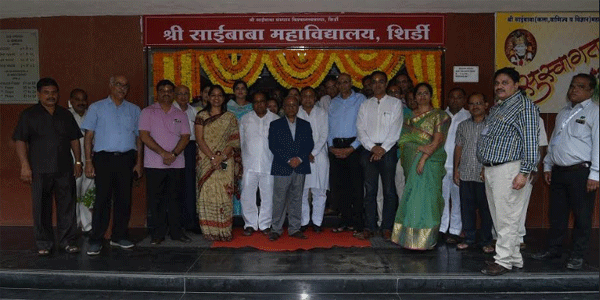 While guiding the students of the college Dr. Haware said that the college life for them was starting now and then the will go for a career life and married life. Keeping positive thoughts at all times is very essential to become a successful citizen. Citing the life history of Thomas Alva Edison and providing a formula for success to the students Dr. Haware wished best for all the teachers and students. Sansthan Vice Chairman Chandrashekhar Kadam and Trustee Bhausaheb Wakchoure also addressed the gathering.
The program was introduced by Chief Executive Officer Shrimati Rubal Agrawal. She expressed her sentiments that it was due to the cooperation of all the Trustees, Officers and staff that the Senior College has started during Shri Saibaba Samadhi Centenary Year. Dy. Collector Mr. Manoj Ghode Patil proposed a vote of thanks. The program was compared by Prof. Mrs. Vandana Deshmukh.