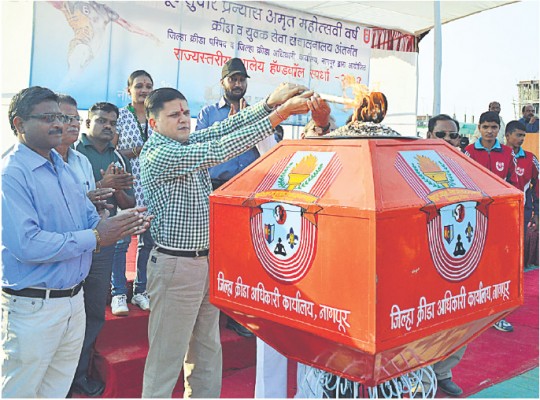 Nagpur Sports News: District collector Sourabh Rao inaugurates the  Inter-School state Handball Championship at Divisional Sports Complex on Wednesday.
Nagpur division began their campaign on winning note in NIT sponsored Inter-School State Handball Championship jointly organised by District Sports Office and District Sports Council at Divisional Sports Complex on Wednesday.
The Host team started off on a winning note as they pipped their opponents from Aurangabad by a margin of 18-16 in the under-17 boys section. In under-19 girls category, Nagpur downed Aurangabad 9-5. In other under-17 boys matches Nashik defeated Amravati 32-12 while Kolhapur recorded a hard fought 15-13 victory over Pune.
In under-17 girls section, Pune thrashed Aurangabad 14-0. Mumbai fought against Kolhapur but ultimately lost by just two goals. In the third match, Nashik defeated Amravati 11-9.
In under-19 boys section, host Nagpur lost to Aurangabad 24-1. Earlier NIT trustee Dinanath Padole inaugurated the tournament. District collector Sourabh Rao presided over the function. NIT trustee Anantrao Gharad, Baba Deshmukh, Suresh Bongade, Arjuna awardee IS Randhawa, international player Ashok Rajput, Vijay Munishwar and others were also present on the occasion. Deputy director of sports Dr Jaiprakash Duble conducted the proceedings while DSO Subhash Gangreddiwar proposed a vote of thanks.