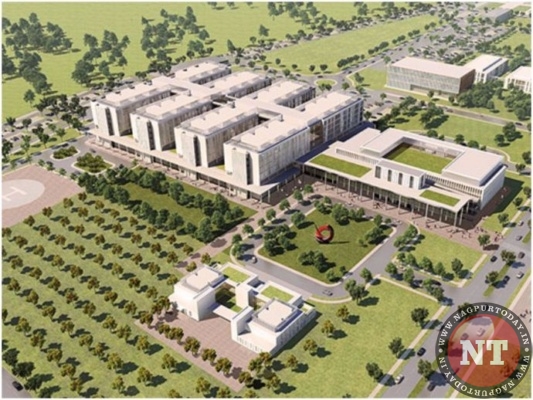 Nagpur: Nagpur will soon be among those cities that have the reputed All India Institute of Medical Sciences (AIIMS). AIIMS is established under a special act passed in the Parliament in 1956. There is a provision to establish an AIIMS in each State. The AIIMS is being established in Nagpur by sidelining Mumbai and Pune. AIIMS is likely to give a boost the health services in Nagpur, which is developing as medical city.
Experts say that establishment of the national institute will check commercialization of medical services in the city. AIIMS Nagpur will be developed on the lines of AIIMS Delhi, which is a model of better health services in the country.
Finance Minister Arun Jaitley, while presenting the 2015 budget, had made the announcement to establish AIIMS in Nagpur. But its implementation actually started in 2017. Construction of the main building of AIIMS is currently underway at MIHAN and it is expected to be ready by March 2020.
The delay in starting the project was due to late allocation of land by the State government. Former Director of AIIMS Delhi M C Mishra had led a selection committee to Nagpur and visited the lands suggested by the State at Vathoda, Ajni and MIHAN. The committee then finalized the land in MIHAN in April 2017 while the work began in 2018.
Hospital Service Consultancy Corporation, an undertaking company of the Health Ministry, has been allotted the work to construct the AIIMS infrastructure. The delay in beginning of the work for AIIMS Nagpur meanwhile resulted in diversion of Centre's funds to AIIMS Raipur, which was also sanctioned in the same budget.
Special features of AIIMS Nagpur
· AIIMS Nagpur is coming up MIHAN
· State government has allotted 250 acres of land for the project
· The initial capacity of AIIMS Nagpur will be of 300 beds. It will be later expanded to 600 and 900 beds
· AIIMS Nagpur is being developed on the lines of AIIMS Delhi, which is a model of better health services in the country
· AIIMS Nagpur will have super-specialty hospital and trauma care centre
· It will have manpower training facility
· AIIMS Nagpur will also provide consultancy to other hospitals in the city
The AIIMS building in MIHAN will be ready by 2020 but the academic session will start from 2018 from Government Medical College. AIIMS Delhi has already started counselling of the first batch students. Associate Managing Director of AIIMS Nagpur, Arun Kumar Bakshi claimed that the AIIMS in Nagpur would prove to be milestone in the medical field.