Nagpur: The State Government this year has granted Rs 30 crore for development and beautification of city's famous Tajbagh dargah of Hajrat Baba Tajuddin. Following the directive of Union Minister Nitin Gadkari, the State Finance Minister Sudhir Mungantiwar has approved the fund. The efforts put in by Guardian Minister Chandrashekhar Bawankule and City BJP President Sudhakar Kohale bore fruits.
Bawankule, ata meeting held at NIT Hall, reviewed the progress of works at Tajbagh. The meeting was attended by Kohale and senior officials. The development and beautification project is of Rs 132 crore out of which related works worth Rs 76 crore have already been completed. Compound wall, ground floor of shopping complex have been completed. The work of first and second floor is going on. Similarly, installation of 8 high mast lights is under way. The cement road work needs Rs 6 crore more.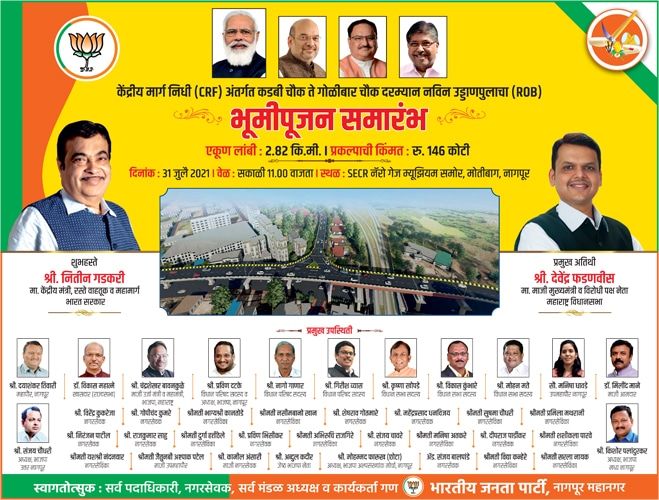 In the meeting, final touches were given to the tenders for pedestrian path, RCC dense, electrification, plumbing and other works. Construction of 130 shops, out of 136, has been completed. NIT proposed to execute main works of the project, including renovation and development of main structure of dargah along with construction of platform around the dargah and flag post, renovation of dudhia kuwa premises, construction of entrance gate, masonry wall with marble and sandstone cladding etc.
Bhavani Mata pilgrimage centre:
In another meeting, Bawankule directed the NMC to complete the development works at Bhavani Mata Mandir in Punapur, Murlidhar Mandir, ancient Ganesh Mandir in East Nagpur since the NIT has been dissolved. The meeting was attended by MLAs Krushna Khopde, Vikas Kumbhare and concerned officials. Khopde informed the meeting that a proposal for development works at these pilgrimage places has been sent to State Government.
SNDL must provide facilities as per agreement:
Bawankule said that according to agreement signed with the SNDL, the power franchisee is bound to provide regular and safe power supply and other facilities. Khopde raised the issue of shifting of high-tension power lines. The SNDL had assured to move high-tension lines in November last by spending Rs 11 crore. But it has not done so even in March this year. Bawankule asked the Chief Engineer of MSEDCL to study the agreement and see which work is to be carried out by MSEDCL and SNDL. All the works must be completed before monsoon, he said.