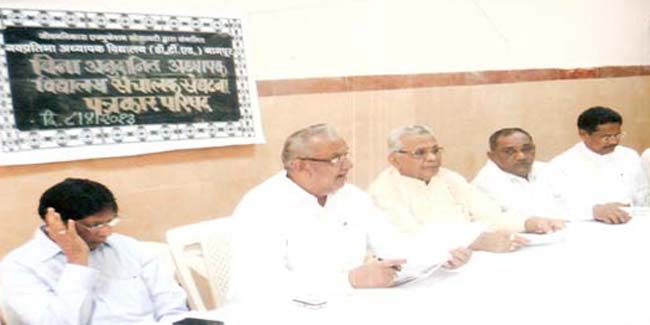 Nagpur News: A special investigation team has conducted probe into D.Ed. colleges being run all over the state on non-grant basis. The entire activity was also shot on video. It went unsuspicious till this level. It was only four days ago when show cause notices citing similar irregularities for all the colleges were sent to the concerned college authorities, that it became evident that the state government is deliberately initiating steps to close down non-aided private B.Ed colleges in the state in order to protect its own D.Ed. colleges.
Alleging this in a press conference in Nagpur on Monday, former MLA Sunil Shinde informed that as per the state government's order dated November 1, 2012, a special inquiry of all the 1,114 private D.Ed. colleges in the state was conducted in January this year from 7th to 14th. He said there are 47 government, 154 aided, 122 non-aided and and 838 regular non-granted B.Ed. colleges being run in the state. Of these, 273 B.Ed. colleges have been running since or before 1990. By 2005, the number of these colleges rose to 325 which went up to 1,161 colleges at the end of last year. Interestingly, the government run B.Ed. colleges were not included in the probe, he quipped.
A group of three officers and a videographer formed the investigation team. A 30-minute video clip of each college was also prepared. Taking the documents, video clips and the investigation report into account, a state level evaluation committee was formed which included 15 experts including MCERT director and former director Marathe.
The notices sought information about B.Ed. from those colleges which do have D.Ed. syllabus. Those running only B.Ed. programmes were asked about running other programmes. Even questions were raised citing unavailability of the teachers despite the full strength of both the employees and teachers. Similarly, less stock of books were indicated in libraries despite having enough of it. Most of these colleges are being run in self-owned buildings but desperate pin-pointing were done, Shinde said.
He informed that Maharashtra Non-Granted D.Ed. College Teachers and Employees Association have filed a petition at Nagpur bench of Mumbai High Court against the investigation report. According to the petition (no. 5607/2012) the NCTE act has been made applicable only on non-granted D.Ed. colleges even as the matter to include old D.Ed. colleges under the purview of NCTE act is under consideration. The petition termed this move as contempt of court as the NCTE act is not being implemented in other government and aided B.Ed. colleges.
He informed that there are 25,000 teachers and employees in non-granted B.Ed. colleges running all over the state.