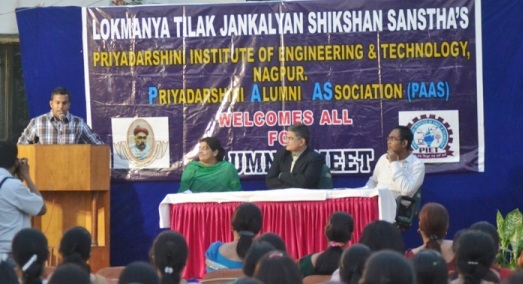 Nagpur News:
Alumni Reunions of a College are occasions to relive the time spent and memories there. Hence, the corridors of PIET (Priyadarshani Institute of Engineering and Technology) were reverberating with the voices and experiences of its alumni, as they organized their Annual Alumni Meet. . The institute fondly remembered the days of exciting experiences of its students.
The support of the alumni in various forms enables the students to successfully charter their growth plan. The professors were of the view that PIET always needed, and still need the support of its alumni to contribute in the noble cause of helping PIET achieve its goals of providing quality education and becoming one of the best institutes.
Dr. C.G. Dethe said, "Such meets serve as an opportunity for the past to reunite for a while with the present and provide greater opportunities for the college to attain greater heights as the experience of the past helps guide the untapped potential of today."
It was event where Alumni presented their experiences and looked forward to interact with the present batches as a recollection of the golden years of their life here. The alumni interacted with each other as well, to catch up on the good old times and also discuss about their present lives in their respective work area.
For organizing this meet, the organizers from PIET floated a Google.doc based form wherein they received a response of approximately 120 registered Alumni. Apart from this, they also have a PIET Alumni Group on Facebook, where they have a network of approximately 600 Alumni. They are looking forward to further raise this number.
The professors were of the view, "Our aim is to be among the best and we are sure we have the ingredients to grow to the desired heights, but it will require a dedicated effort from one and all. Hence, the initiative of the institute of organizing this meet every year under the banner of PAAS i.e. Priyadarshini Alumni Association, which is now a registered one, is commendable, with such noble objectives in mind."