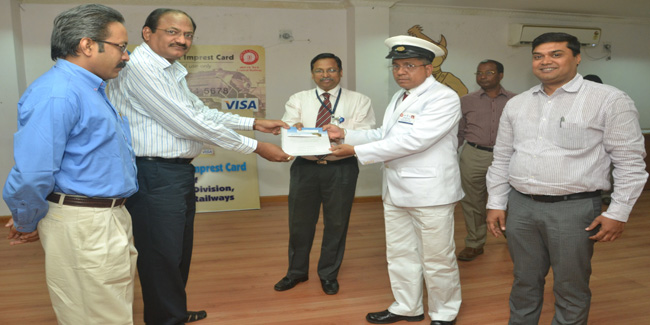 Nagpur News: Central Railway, Nagpur Division in collaboration with State Bank of India, Nagpur has rolled out State Bank Imprest Card for the uses of its Imprest Holders. The function is held today at Gunjan Auditorium. The State Bank Imprest Cards were distributed by Shri Brijesh Dixit, DRM, CR, Nagpur Division; Shri B. Shankar, DGM, SBI and Shri Uday Borwankar, ADRM, CR, Nagpur Division.
The imprest is an amount which is sanctioned to each office to meet its day to day petty office expenses. In the present scenario each office of Nagpur Division, Central Railway has to visit the Cash Office of the Railway for collecting the recoup imprest amount.
With the introduction of this innovative State Bank Imprest Card, the Imprest Holders will be given a Imprest Card which is similar to ATM-cum-Debit card. The Card will be loaded with the amount sanctioned/recouped. The Imprest Holder shall receive a SMS from the Bank regarding the loading of its Card.
This Imprest Card will be of great convenience to the Imprest Holders as they can withdraw their sanctioned amount from any ATM as and when required. This will also eliminate handling of cash. Further the introduction of the Card will eliminate waiting for the cash at Cash Office and will bring efficiency in the system.
Salient features of the Imprest Card
The card will have Logo of Indian Railways and Designation of Imprest Holder:
* It is a pre-paid card which can be used at ATMs for cash withdraw.
* Valid for 10 years.
* Any number of reload allowed till the validity of card.
* Minimum amount of load or reload is RS.100/- per card.
* Maximum amount of load/reload is Rs.50,000/- per card.
* Balance enquiry can be done at any ATM.
* SMS shall be sent to Imprest Holders regarding reload.
Ramanand Bhagat, Sr DFM/CR/Nagpur gave the introductory speech. Kulkarni, AGM/SBI, the Officers, staff of Central Railway and SBI were present on this occasion.