With Holi around the corner, it is time to roll up your sleeves and toss up for our own yummy delicacies Mutton from Nagpur " Saoji Mutton"
This is traditional recipe of Nagpur which belongs to saoji society. This is a good variation for people who love to eat spicy food.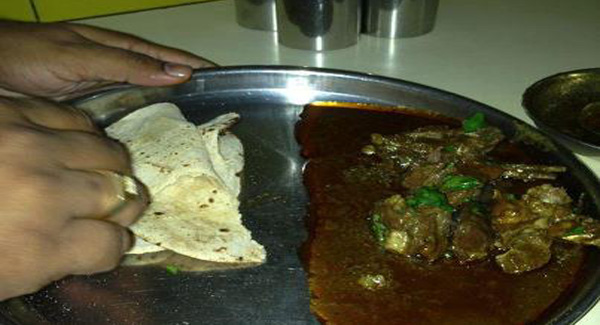 Ingredients:
1. Mutton- 1 kg (Cut that into small pieces of 1 inch)
2. Onions- 2 medium (Sliced)
3. Ginger garlic paste- 2 tablespoons
4. Oil- 3 tablespoons
5. Dry coconut- 1/2 cup (Sliced)
6. Black cardamoms- 2-3
7. Green cardamoms- 2-3
8. Coriander seeds– 2 tablespoons
9. Shahi jeera- 1 teaspoon
10. Cloves- 3-4
11. Black pepper– 8-10
12. Cinnamon- stick of 3-4 cm
13. Bay leaves– 3-4
14. Dry red chilies- 7-8
15. Khuskhus (poppy seeds 1 tablespoon
16. Stone flower (Dagad phool)- 1 tablespoon
17. Salt- as per taste
Preparation time:
25-30 minutes
Cooking time:
60 minute (approx.)
Servings:
4
Method:
1. Heat 3 tablespoons oil in pressure cooker.
2. Once oil get heated add sliced onions and saute these slices till they turns their color to golden brown.
3. Now put of the gas and drain the excess oil from onions.
4. Then grind onions to a paste by adding little amount of water.
5. Now in same oil saute black pepper, Dry red chilies, stone flower, black cardamoms, green cardamoms, shahi jeera, coriander seeds,cloves, cinnamon, bay leaves, khuskhus (poppy seeds) and dry coconut.
6. After that make a fine paste of all these spices using grinder. Add water as per the need.
7. Once again heat the oil in pressure cooker. Add pieces of mutton in oil and saute them on high gas till pieces get light brown.
8. Then add paste of ginger garlic and fried onions and mix well with the mutton pieces.
9. Once these pieces gets fried with both the paste add the paste of masala which is made earlier.
10. Add salt as per taste and 3-4 cups water and mix well.
11. Boil this gravy and then cover the cooker with lid.
12. Cook this mutton in pressure cooker till three whistles.
13. Put of the gas.
14. Serve this mutton with bread or roti.
"Saoji mutton" recipe is consisting of varieties of garam masala which enhance the taste of mutton. This is one of delicious non veg recipe which has best combination of Indian spices. Additonally dry coconut used while cooking brings extra thickness to mutton gravy. This recipe is also famous just because of its spicy flavor.
Note:
We can cook this recipe in two ways.
1) First boil the mutton pieces in salt water and then mix the required spices in that.
or
2) Follow the steps which are given in above recipe.