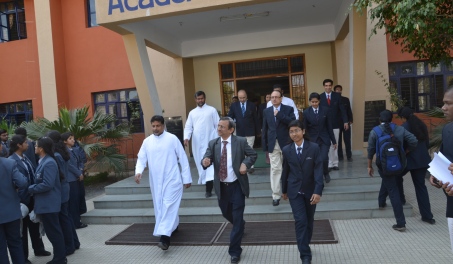 In today's rapidly growing technological world, practical application of knowledge especially in particular fields like engineering has become very important. Keeping in mind such facts, students are seen gearing up in this sphere. Thereby, St. Vincent Pallotti College of Engineering and Technology presents its annual technical festival TechNex'2013 on the 16th and 17th of March. On the verge of completion of a decade in the field of engineering and technology, the students and faculty members of the college are working hard towards the exemplary initiation and execution of this technical extravaganza.
Started in the year 2008, Technex has been a major technical event in the city, attracting engineering students from different parts of the country who are pitted against one-another in a fiercely competitive setup. This year the students are aiming to expand the event furthermore by including unique competitions into the fold.
The main event is subdivided into 5 segments: Roboleventar– a robot race where two robots will be pitted against each other on a race track with obstructions on the way to intensify the competition with an added challenge of picking and placing an object from the start line to the finish line; Socco-Rage– a robot soccer with the difference that there won't be any penalties awarded to the robot which damages the opponent robot in the process of scoring goals; Resolve– an event where students will tackle the real time industry problems from various industries and propose feasible solutions; Crypt-Jam– where the participants' aptitudes shall be thoroughly tested and the quickest will dominate; Technika– an Android workshop being conducted by delegates from IIT Kharagpur where the participants will be inducted with thorough knowledge of App development. This two day festival intends to evoke and liberate the innovative genius inside the participants and win exciting prizes!