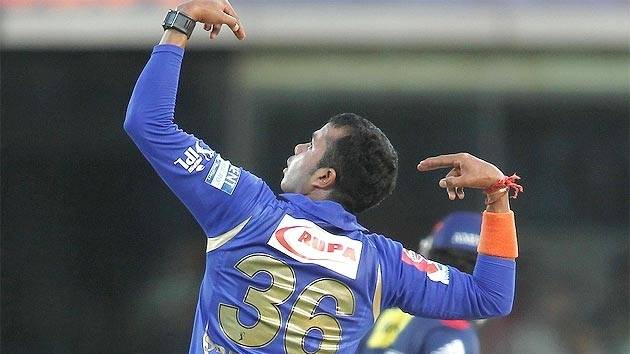 Nagpur News:
Special cell of Delhi police arrested Nagpur-based cricket bookies Sunil Bhatia and Kiran Dhole and former Ranji player Manish Guddewar from Aurangabad. These arrests have created a terror among local cricket bookies and action against five more bookies in coming days is likely.
Bhatia resides in Kadbi chowk area of the city and is a known devotee of Shri Sai Baba. He was acquitted from murder charge which was registered by Pachpaoli police. He has made a surprising progress in recent past. Bhatia's involvement in match fixing was suspected from many days. Three years ago, a police officer had summoned him in Pachpaoli police station for investigation. He regularly organises lungar at Sai Mandir in Motibag museum the hoardings of which can be seen in the city. As per sources, Bhatia was in constant contact with a Delhi-based bookie Tinku through the medium of Dhole, Manish Guddewar and one former Ranji player from Nagpur. Delhi police was searching for Bhatia and his accomplices from last two days. Finally, they were arrested from Aurangabad on Sunday.
Kiran Dhole runs a hotel on Koradi road. Dhole's partner in hotel business is also allegedly involved in match fixing scandal. Kiran resides in Raj Nagar locality and he was connected to Bhatia who used to operate from Ramdaspeth and an automobile showroom in Gaddigodam area. Delhi police had arrested bookie Tinku with another bookie from Gondia Ramakant alias Rama Agrawal. Rama represents a Ramdaspeth-based big bookie. The other representative of this bookie runs operations in Ambazari police station area. One of the relatives of this bookie resides in Kamptee.
The business of this bookie is spread all over the country and he regularly visits Dubai and other foreign countries. Sitabuldi police had arrested this bookie in July 2007 while his other accomplice was arrested from Ganeshpeth police station area. Laptops seized from them had information on Dubai links but police had not investigated this case seriously.
Bhatia had left Nagpur for Shirdi along with accomplices after recent arrest of bookies by Delhi police. He was even taking efforts to include self in the management committee of Shirdi Mandir Trust. He had even met a minister in this regard. Almost all bookies from the city had visited Shirdi and Tirupati before start of the IPL season.